Barrow and Lancaster hospitals now meet essential standards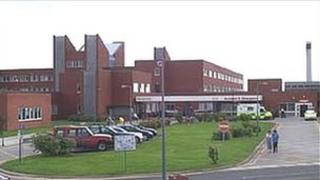 Two hospitals which had been criticised for their levels of emergency care now meet all essential standards, a Care Quality Commission (CQC) review has found.
The report follows unannounced visits to wards in August.
Previous inspections had found patients at Furness General Hospital in Barrow and the Royal Lancaster Infirmary were "at risk of poor care".
Seven categories of care had improved since February, the CQC found.
'Cannot happen again'
Last month the University Hospitals of Morecambe Bay NHS Foundation Trust received a similar positive report on its maternity services which had also been ordered to improve.
The trust's chairman, Sir David Henshaw, said: "Patients have been let down in the past with unacceptable levels of care and this cannot happen again.
"We are very pleased to have received this report two weeks after the CQC said that our maternity services were also meeting all the essential standards they inspected.
"This helps to demonstrate that the trust as a whole is turning the corner in terms of recovery, not just individual departments. However, we do acknowledge there is still a long way to go."
'Immediate action'
The original criticisms of the trust's emergency services included references to the delays patients were experiencing and the fact there were too few staff on wards.
Jackie Daniel, the trust's chief executive, said: "It was essential that we took immediate action earlier in the year to ensure services were safe and putting clinicians in charge of our services was a key part of this."
The trust's former chief executive, Tony Halsall, resigned in February.
It has been the subject of regular inspections and reviews, and Cumbria Police is still investigating the deaths of a number of babies at Furness General Hospital.
In March, a "comprehensive recovery plan" was outlined as the trust revealed how it would make major changes to its services.