Last duty for Durham chief constable Jon Stoddart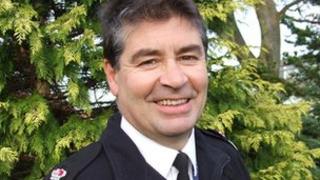 The outgoing boss of Durham Police is performing his last official duty before retirement from the force.
Chief Constable Jon Stoddart is stepping down after seven years at the helm and 30 years as a serving officer.
Before he goes, he is due to cut the first sod on the site of new £14m police headquarters.
The current deputy, Mike Barton, will lead the force until a permanent appointment is made by the incoming police and crime commissioner.
The new three-storey building opposite the current building at Aykley Heads, Durham, replaces the original premises, which date back to 1969.
It is due to open in 2014 and will house about 450 officers and staff.
Mr Stoddart said: "I know I leave this force in good shape as far as performance is concerned, with crime and disorder continuing to fall and satisfaction with our service running at a very high level.
"I'm also pleased to be leaving it in good shape physically, with the creation of this new, modern building which will be fit for purpose for 21st Century policing."