Shrewsbury 24 pickets' plea over 1973 convictions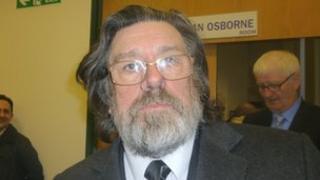 Labour is being urged to support a campaign to clear the names of 24 pickets convicted over a builders' strike in Shropshire 40 years ago.
Actor Ricky Tomlinson, 73, who was among those convicted, was to address a fringe meeting at the party's annual conference in Manchester.
The men were accused of violent picketing and intimidating workers during the strike in Telford in 1972.
Tomlinson served 16 months in jail and six other men were also sent to prison.
The pickets were arrested and charged under the 1875 Conspiracy Act.
The Royle Family actor has always maintained his innocence and in 2010 marched with hundreds of supporters for "Justice for the Shrewsbury 24".
The protesters marched from Abbey Foregate to Shrewsbury Crown Court where the sentences were passed.
The campaigners have also gone to the Criminal Cases Review Commission (CCRC), which assesses whether convictions or sentences should be referred to a court of appeal.
The campaign's submission argues the original case against the workers was political and an abuse of power by the Conservative government of the day.
The Conservative Party has not commented.
Terry Renshaw, a delegate at the Labour Party conference with the building workers union Ucatt, and one of the "Shrewsbury 24", said he was confident their names would be cleared.
Mr Renshaw said he has denied work because of his conviction and was not able to travel to countries such as the United States.
At 64, Mr Renshaw is the youngest of the 24, four of whom have died.