Jumble sale jams face scrutiny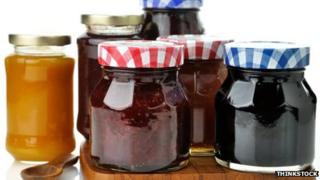 Jumble sale jam makers could face new scrutiny - after it emerged they might have been flouting food hygiene rules.
Homemade preserves sold in fetes are often stored in sterilised used jars.
But a parishioner in the Diocese of Peterborough, which covers Northamptonshire and Rutland, was made aware of hygiene rules which state only new jars should be used.
Peterborough City Council, which has the power to enforce the rule, said it would be discussing the issue.
Jams can only be sold in used jars at special events and with local authority permission.
Irene Walsh, the council's cabinet member for community cohesion and safety, said: "I want to debate this and take a look at the past and see whether any issues in terms of safety have arisen, and to consider the level of enforcement needed and take a sensible decision based on that."
The diocese fears this rule could cost charities thousands of pounds a year.
Derek Williams, diocesan spokesman, said: "It's quite ridiculous as selling homemade jams and chutneys has always been a traditional and important part of fund-raising for church groups and others.
"Older people in particular, or those not terribly well-off, have never been shy of making a few pots and giving that away.
"We're going to lose that aspect of individuals being able to give something they have made themselves that hasn't cost them a lot."
'Homemade contributions'
Food Standards Agency regulations from 2004 apply only to food that is "placed on the market" - either for sale, or free of charge as a prize, for example.
They do not apply to preserves given to friends or family as gifts.
In a statement, the agency said: "Any food packaging used must be compliant with European regulations (1935/2004, article 3) which set out the safety criteria for food packaging.
"Though it can be assumed that originally the jars met these criteria, as they were fit to sell at the retail level, once sold and their constituent food has been consumed, the required chain of documentation which shows they are compliant is broken."
The FSA permits local authorities to request a Declaration of Compliance for jars to ensure they meet food hygiene regulations.
"Whilst European regulations prevent a food business from using previously used jars for food, it would be for local authorities to decide whether or not to apply these rules to occasional sales such as coffee mornings, charity events, church bazaars etc," the FSA added.
Mr Williams said enforcing the rule "would be a blow to fund-raising events for all sorts of voluntary organisations".
"People will offer their homemade jam when perhaps they can't give anything else," he said.
"But they feel they have made a contribution to whatever organisation they support. That is what we will lose."