Thames Valley Police chief's fears over extremist PCC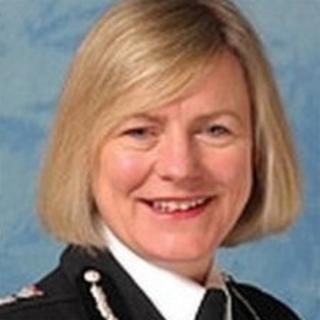 A chief constable has warned that a low turnout in the police and crime commissioner (PCC) elections could lead to extremists being elected.
There is concern turnout could be below 20% in the 15 November election.
Thames Valley Chief Constable Sara Thornton said: "There's always been a concern if you have a small turnout the potential for people with very extreme views to be elected is greater."
She added a low turnout would also damage the credibility of the role.
"If the mandate is regarded as weak because few people have voted, it won't help them to be able to get things done," she said.
'Shade of grey'
Ms Thornton said it would seem some prospective candidates do not have a clear idea of the role of what areas of policing they are able to influence if elected.
"It seems to me that there are some areas, such as to arrest a person or not, clearly that's an operational issue and I think it would be very unwise for a Police and Crime Commissioner ever to go there," she said.
"At the other end of the continuum there's maybe things like whether we should close police stations and that's something where the input of the public, the democratic input, I think is more important.
"In between those two extremes there's a whole kind of shade of grey."
She added: "If I had a worry it's around the more strategic policing issues, the sorts of things that the public don't see but matter very much.
"Making sure we have a proper response to terrorism, to serious and organised crime, that we've got the right sort of planning in place for civil contingencies and public disorder.
"We're going to be very much learning as we go along. I would stand my ground where I thought it was a matter of law or my role or principle.
"There are other areas where I've always been open to the views of the public and in many ways the PCC will be representing the views of the public to me, and of course I'll listen to that and maybe move my position as a consequence".
'Guided by voters'
When asked if the new PCC would dilute or empower the position of chief constable, Ms Thornton said: "I think we have very different roles... the PCC sets out a plan and we deliver that plan... then we can support the commissioner.
"But similarly I think the Commissioner can support me."
A Home Office spokesman said: "Operational decisions, such as the deployment of officers and their equipment, are for the chief constable of a force.
"A PCC's job will be to hold the chief to account for his or her decisions, not manage the force.
"They will recognise that the only way of making a police force effective is by letting the professionals do their job.
"PCCs will set the policing plan and strategic priorities for policing in their force area, guided by the views of voters.
"They will hold chief constables to account for cutting crime and delivering the policing plan."