Labour's task force for East England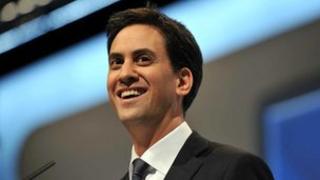 Two years ago the former MP for Waveney, Bob Blizzard, launched an inquest into why Labour had done so badly in the East.
The Labour wipe out, he observed, had been "a near death experience" and unless the party addressed why it had done so badly, it faced years in the political wilderness.
But at this year's Labour conference Mr Blizzard is feeling a bit more chipper.
"If someone had said two years ago that we'd now be 10% ahead in the opinion polls, people wouldn't have believed it.
"But we're starting to win in council seats again, the gloss is coming off David Cameron in great, big flakes and people are taking Ed Miliband seriously."
But no one in Labour is being complacent.
This week the party has set up a task force to focus on winning more seats in the South East and particularly the Eastern region.
Strategists know that unless the issue of 'southern discomfort' can be addressed, the chances of forming a government will be very slim indeed.
Headed up by deputy leader, Harriet Harman, it will oversee campaigning in the region and look at new policies from an eastern and south eastern perspective.
Ordinary people
Mr Blizzard, who's inquest concluded that Labour had lost touch with the region, will be playing a key role on the new task force.
"It's about connecting with people and being seen to be on their side," he says.
"It's about recognising that we have to address the hardships that ordinary people are facing every day."
"That's why we've taken on the energy companies and the banks, these are the real concerns of ordinary people at the moment."
The party wants to return to the glory days of 1997 when Labour won 24 seats across the eastern region.
Now it's down to just two - both of them in Luton.
The strategy will be to target the main swing seats in the region - the ones with majorities of under 4,000.
Top of the list is Thurrock (majority 92), then Norwich South (310) followed by Waveney, Bedford, Corby, Ipswich, Northampton North, Stevenage and Norwich North.
Greater resources
"These are the seats which I believe will get us back into government," says Luton South MP Gavin Shuker.
"Ever since I was elected I've been calling for more effort in the East. This task force is great news."
The candidates have already been chosen in the key seats, Ed Balls was last year appointed campaign Tsar in the East, and the regional office has been given more resources.
Labour has had a good set of local elections over the last 18 months.
If that level of success continues over the next few years the party could stand a chance of doing well again in the East, and then the task force will be judged to have been a success.