Justin Lee Collins 'worried' by partner's sexual past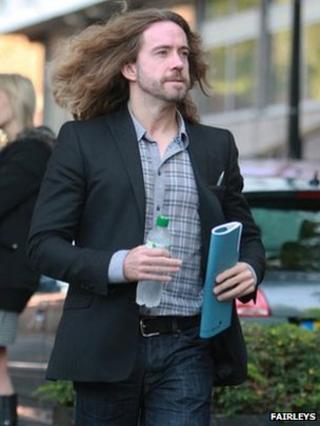 TV presenter Justin Lee Collins was worried about his ex-girlfriend's "chequered and colourful" sexual history, a court has heard.
St Albans Crown Court was also told he had no idea of the extent of her "mental health and alcohol problems" when they first began a relationship.
Mr Collins, 38, is accused of slapping and harassing Anna Larke between January and August last year.
The defendant, of Kew, London, denies harassment, causing fear of violence.
In an interview with police after his arrest in October last year, a transcript of which was read to the jury, he said he first began a relationship with Ms Larke shortly before Christmas 2010.
The pair had met in 2006 and started a brief "inappropriate" relationship while Mr Collins was still married, but he called it off after his wife found out.
He told police Ms Larke continued to contact him over the next two years, almost to the point of harassment, which he ignored until his marriage broke down at the end of 2010 and he responded to one of her emails.
'Deeply troubled'
The court heard how the couple frequently argued and called off the relationship, until they finally split up in August 2011 and Ms Larke, 37, from Hitchin, moved out of Mr Collins' flat.
The defendant had been undergoing therapy at the start of their relationship to deal with his marriage breakdown, during which he confided he did not want to stay with his troubled girlfriend, but felt alone.
In his police interview, he said: "What I didn't realise was that Anna was deeply troubled to a level I had no idea about. We were in a proper full-on relationship and I started to realise that.
"If I'm helping her then I'm not thinking about me and the mess I made of my marriage. I was very much the rescuer."
When asked about his arrest, he said her action was "not a massive surprise".
"But I didn't think she would actually do anything like this," Mr Collins said.
"She would message me saying 'I'm going to the police, they need to know about you' then 12 minutes later 'I love you, I wouldn't say a bad word against you'.
"She told me she wanted £20,000 or she would go to the police."
He admitted being shocked when he found out from her she had recorded one of their arguments, adding: "You can imagine the kind of names I called her.
'Never hit anyone'
"Everyone has arguments but not everyone records them."
He said he had concerns about Ms Larke's sexual health after hearing of her past relationships and wanted to know who she had had unprotected sex with, before telling her to get checked out at a clinic.
He told police: "I had significant issues with her chequered and colourful history.
"I said 'I need to know more about this. What did you do with this guy and did you use protection?'
"We were at a stage in the relationship where we were not using protection and I thought it would have been nice if I had been told about it."
Ms Larke alleged Mr Collins used a notebook to record a graphic dossier of her sexual history.
Mr Collins told police he had only ever tried to "calm" down Ms Larke when she was "self-harming", the court was told.
Mr Collins said: "I have never hit anyone in my life."
Ms Larke, a former public relations worker, has claimed Mr Collins attacked her in their Miami hotel room in March 2011.
The trial continues.