Bungay's Falcon Meadow bought by James Hartcup for town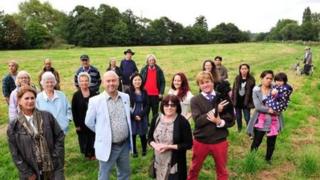 A businessman has bought an ancient meadow to try and ensure it stays available for people in a Suffolk town.
James Hartcup, of Bungay, has bought Falcon Meadow at auction for £50,000 from Ditchingham United Charities.
He is now looking for 200 subscribers to pay £5 a week to keep it for the town's residents.
Mr Hartcup said: "The biggest fear was someone wanting to make a caravan site, allotments or growing trees there, so now it's in safe hands."
A campaigning group was set up to try and preserve the meadow after it emerged that the Ditchingham charity wanted to sell the 4.19 acre site, which is on the Norfolk bank of the River Waveney.
Deirdre Shepherd, one of the campaigners who has pledged some money, said: "I want my grandchildren to grow up appreciating the things I was privileged to have as a child in the 1950s.
'Predatory hands'
"There aren't many green spaces and it's vital that these meadows are preserved so that children, adults and dog-walkers have some freedom."
Mr Hartcup stepped in to bid at the auction, because the campaigning group was unable to raise the money in advance.
"It's a beautiful meadow with a river frontage that people have used for centuries and the thought of it possibly falling into predatory hands is unthinkable," he said.
"The biggest fear was someone wanting to create a caravan site, allotments or growing trees there.
"If we don't get the 200 people then we'll fall back on the more wealthy individuals, but the idea is to give the feeling of ownership to the many rather than the few."
Mr Hartcup said he has 50 people signed up and has three weeks to complete on the purchase.
He said a limited company by guarantee is likely to be set up to take ownership of the meadow.