West Midlands Fire Service jobs 'threatened by changes'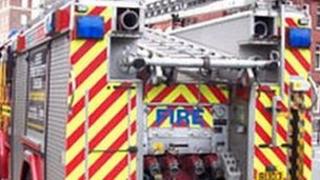 More than 2,000 staff at West Midlands Fire Service (WMFS) could lose their jobs unless they accept new working conditions, a union has claimed.
The Fire Officers' Association (FOA) says the service wants to change the employment terms including reducing working hours and expenses allowances.
Alan Tranter, from the FOA, said: "The threats to jobs are very serious."
WMFS said it needed to make "significant savings" and that no final decision had been made on the plans.
It said the savings needed to be made because of a £10m reduction in funding it is getting from government between 2011 and 2013.
Director of human resources David Johnson said: "These actions are being considered as a means of making savings which avoid the need for redundancies.
"The proposals put to the fire authority in September are exactly that - proposals - and we will consult with workers about them."
'Refuse to accept'
The plans, which will affect 2,208 employees, include reducing the working week from 37 hours to 36-and-a-half hours.
The fire service said it would save £150,000 bringing mileage allowances into line with HMRC rates and scrapping home-to-work mileage allowance for some officers.
There are also proposed changes to annual leave and when workers are entitled to take days off.
Mr Tranter said: "In making these changes, the authority has declared a willingness to dismiss all staff who refuse to accept a new contract of employment.
"This could have a knock-on effect and impact on the level of service that is provided to local communities.
"I don't believe it's the fault of the authority, I believe it's the way the public sector cuts have fallen, but they do appear to have fallen more heavily in the West Midlands than anywhere else.
"That's something that both employers and the representative bodies are needing to address with the government."
The FOA said it would consult with its members before making a formal response to the fire service.