Justin Lee Collins 'blackmailed' by lover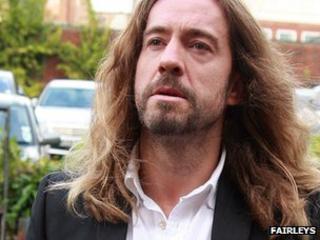 The girlfriend of Justin Lee Collins blackmailed the TV presenter in an attempt to get £20,000, a court heard.
Anna Larke, 38, allegedly told the former Friday Night Project host that she would "go to the police" and "hurt" him if she did not get the money.
Ms Larke described the claim, made by Mr Collins' defence counsel, as "absolute lies".
Mr Collins, also 38, of Kew, south-west London, denies harassment, causing fear of violence at St Albans Crown Court.
Sonia Woodley QC, defending Mr Collins, said: "You told him 'Give me £20,000 or I'm going to hurt you and I'm going to go to the police."
Ms Larke, who had a nine-month relationship with Mr Collins, denied the claim.
'Terrible names'
She said: "Oh my God, that's absolute lies. I've never said that."
Ms Woodley said Mr Collins sent Ms Larke a text message that said: "I've offered you all sorts of help, but I'm not getting involved in blackmail."
Ms Larke, a public relations worker who was unemployed at the time of the alleged offences, said: "If I had just wanted money I would have gone straight to the press."
Earlier, jurors were told Mr Collins had smacked and sworn at Ms Larke.
Penelope Larke, her mother, said: "He called her all the names under the sun, terrible names."
Ms Larke had also told her mother that Mr Collins had hit her in the face on one occasion but had asked her to keep it secret.
"She said: 'Mum I have to tell you something, you have to promise me first that you won't say anything to anybody', and then she said he smacked her and swears at her," Penelope Larke told the court.
"She told me he smacked her in the private parts. I told her it wasn't a very healthy relationship and that she should just pack her bags and come home."
Her husband, Jeremy Larke, said his daughter had dismissed attempts to talk about the "reddish marks" he saw on her face and arms when she paid them a visit during her relationship with Mr Collins.
He told the court that once Ms Larke moved back to the family home she said Mr Collins had assaulted her during a trip to America.
Mr Larke told police his daughter had told them he had grabbed her hair and dragged her around the room.
In court, he said: "It was a great shock to me. I can't believe he would beat her up."
The alleged harassment happened between January and August last year.
The trial continues.