Avon and Somerset PCC election: UKIP pledges more frontline policing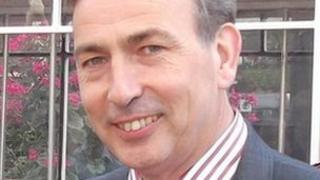 The police candidate for the UK Independence Party has pledged to increase frontline policing across Avon and Somerset if he is elected.
Ian Kealey, who farms in Somerset, said it was a "common-sense" decision to move more people from administrative duties to frontline policing.
He also pledged to fund community projects aimed at "problem families".
Mr Kealey is one of five candidates running in the police crime commissioner elections on 15 November.
'Hugely expensive'
Mr Kealey added: "It is very much part of my mission to do something to help those problem families who have run into difficulties."
Part of his manifesto also criticised previous and current governments run by the Conservatives, Labour and the Liberal Democrats.
He said: "35 years of Conservatives, Labour and Liberals have failed to deliver effective prisons.
"We have hundreds of convicted criminals running about making a mockery of the justice system, this is all hugely expensive.
"We have people in our neighbourhoods who are afraid to come out after dark.
"Only UKIP can cut the waste and put traditional values into police and I have the guts, vision and drive to create a responsive force."
Mr Kealey said raising the bar of academic achievement for entry level officers should be considered, "to improve the status of police".
In terms of policing costs, Mr Kealey said he would not raise the council tax precept for the police but would instead "keep the council tax bill under control".
Mr Kealey was born in Yorkshire and now runs a farm in Somerset having moved to the area as a student.
Also standing is Pete Levy for the Lib Dems, Ken Maddock representing the Conservatives, John Savage for Labour and Sue Mountstevens as an independent.