RSPCA's legal threat if Ipswich port resumes live animal exports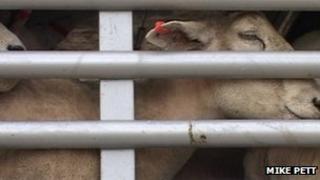 The RSPCA has warned it would go to court if necessary to stop the live exports of animals from a port in Suffolk.
The warning came during a meeting hosted by the RSPCA and Compassion in World Farming on Friday to discuss the exports from the Port of Ipswich.
Animal export operations had been suspended from the port a week after sheep were sent overseas.
Associated British Ports (ABP) said no further shipments were planned.
At the meeting, RSPCA chief executive Gavin Grant said: "Let me say bluntly to the exporters if you attempt to re-open this trade either here in Ipswich or back in Ramsgate or somewhere else, you'll find the RSPCA inspectorate waiting for you.
"If you try and force that through the courts of law you'll find our solicitors waiting there for you too."
Activists' vigil
Two weeks ago, the Port of Ramsgate stopped exports after 45 sheep died in two separate incidents.
The operation then moved to Ipswich on 21 September where more than 20 protestors gathered as the first sheep were exported.
The National Farmers' Union has called on the Port of Ramsgate to resume live animal exports.
Activists are holding a 24-hour vigil at Ramsgate port to celebrate the ban on exports.
However, Peter Garbutt, the NFU's chief livestock adviser, said: "Exporting animals is a legal trade that is carried out throughout Europe.
"The health and welfare of the animals through transit is the top priority of farmers."