Cumbria concern over school funding formula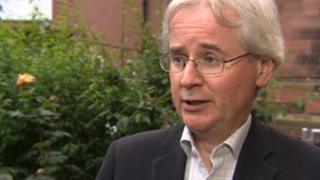 The national schools funding formula could lead to job losses and even school closures in rural counties like Cumbria, it is feared.
From 2013, in a move aimed at making budgets more fair and simple, all schools, regardless of size, will be given the same lump sum of funding.
Out of Cumbria's 310 schools, 98 stand to lose money as a result of the changes.
The government said it recognised the challenges rural schools will face.
Under the formula, schools can be given extra money based on ten factors, such as numbers of pupils and levels of deprivation.
However, currently the county council can allocate extra funding to small rural schools in need of extra support, but that will not be possible after the changes are brought in.
'Detrimental impact'
Deputy leader Stewart Young said: "The problem with a national formula is that it means every local authority has to allocate funding in the same way, with very limited discretion.
"At the moment we have greater discretion to target funding to areas that we think are a priority, and in the future our hands are going to be tied."
Settlebeck High School in Sedbergh faces a reduction of more than a quarter of a million pounds, a third of its budget.
Head teacher Dr Judith Greene said: "If they were to go ahead as suggested the plans would have a very detrimental impact on my school as well as others across Cumbria.
"Potentially it could close them."
She added it could cause a lot of problems for families in remote locations.
"We've got one family here, the child comes down from the farm in a car onto the road," she said.
'Serious threat'
"Then they're picked up by a village minibus which takes them to the pub car park, where the school minibus picks them up.
"Already, that pupil is doing an hour's travel to school, if the school closed in Sedbergh they'd have at least another half hour to get to the next school.
"I think three hours is an unacceptable amount of time for a child to be on a bus to get to school"
Tim Farron, MP for Westmorland and Lonsdale, described it as a "very serious threat", but said that it could be easily fixed.
"Essentially all that needs to happen is that a separate, flexible fund could be used to be to top up these schools which would otherwise close," he said.
In a statement, the Department for Education said the government is firmly committed to rural schools and recognises the challenges that they face.
It also said it believes the new funding formula still gives local authorities the power to protect small schools.
See more on The Politics Show, BBC1, 13:40 BST, Sunday.