East Anglia and West Country brothel network pair jailed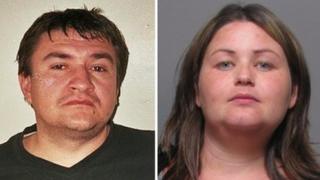 A couple who ran a network of brothels in East Anglia and the West Country have been jailed.
Alexsander Sochacki, 41, and Aleksandra Bryll, 29, were detained after raids in Ipswich, Norwich, Colchester, Swindon, Bristol, Newquay and Tedburn St Mary.
The pair, both of Chelmsford in Essex, were sentenced at Ipswich Crown Court for conspiracy to manage brothels.
Sochacki was jailed for three years and Bryll was ordered to serve a one-year term, after the raids in 2010.
The court heard they advertised for women to work as prostitutes in Poland, flew them over and rented premises for them to work in.
In July 2010, a multi-police operation led to raids at premises in London Road, Foxhall Road and Firmin Close in Ipswich; Avenue Road in Norwich; George Williams Way in Colchester; Longstock Close in Swindon; Bedminster Road in Bristol; Bay View Terrace in Newquay and at Tedburn St Mary in Devon.
'Preyed upon women'
Following the raids, police said five victims of sexual exploitation had been found.
Bryll pleaded guilty at an earlier hearing, but Sochacki was found guilty by a jury, after denying the charge.
Judge David Goodin said the pair had similar previous convictions and were "experienced brothel-keepers" who "preyed upon" the women who worked for them.
Sochacki and Bryll were "exploiting their vulnerability to get them to come over to this country and make a few easy pounds" and mentioned a sum of £40,000 they had banked, the judge said.
Det Supt Alan Caton, head of public protection for Suffolk Police, said: "It's a large scale criminal operation, where the people earn large sums of money.
"We think that when people encourage women to work in this way they are exploiting the vulnerabilities of women who perhaps have no other way of earning any money."
Four people were sentenced on the same charges at an earlier hearing.