Megan Stammers: Family 'overjoyed' as girl found in Bordeaux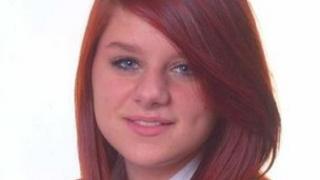 The stepfather of Megan Stammers has said he is "overjoyed" she has been found safe and well in France.
Martin Stammers said he and 15-year-old Megan's mother Danielle Wilson could not "wait to be reunited with her".
Megan and Jeremy Forrest, 30, were found in the city of Bordeaux following a confirmed sighting on Thursday, Sussex Police said.
The teacher was arrested on suspicion of child abduction by French police after the pair were found at 12:15 BST.
The BBC's Paris correspondent Christian Fraser said it was understood Megan's mother would be flying to Bordeaux on Saturday to accompany her daughter home.
'Emotional rollercoaster'
Megan had been reported missing by her family after she failed to turn up for school in Eastbourne last Friday.
Ch Insp Jason Tingley, of Sussex Police, said, in a media conference a few hours after the pair were found, there had been four possible sightings of the schoolgirl and her teacher in France.
Two had been in the south-west, while there had also been a number of unconfirmed leads elsewhere in Europe, he said.
He said a third potential sighting in Bordeaux on Thursday afternoon came after French media coverage of their disappearance led a member of the public to recognise Mr Forrest.
He said the process of Mr Forrest's extradition would begin, while Megan was currently in the care of British consular staff and Sussex Police child protection team officers.
Mr Stammers said: "Danielle and I are so relieved that Megan has been found safe and well. We just can't wait to be reunited with her.
"Our family are overjoyed at the outcome. As you can imagine, it's been an absolute emotional rollercoaster."
In a statement read to the media, Mr Forrest's parents, Jim and Julie Forrest, said they were pleased the pair had been found, and it had been "an ordeal for all the families concerned".
"We are relieved that the search is finally over."
Earlier, government sources said at least two British diplomats were travelling with Megan and Mr Forrest, the pair had each spoken to their respective families and their morale was said to be good.
Agnes Auboin, vice-prosecutor in Bordeaux, said: "As the girl is a minor, the maximum will be done to return her to her family. She is in good health."
Police were alerted when Megan did not arrive at Bishop Bell C of E School in Eastbourne on 21 September.
It was later discovered she had boarded a ferry from Dover to Calais with the maths teacher.
Both Megan's parents and Mr Forrest's parents had appealed for the pair to return and on Thursday it was revealed a European arrest warrant had been issued for Mr Forrest.
Friends of Megan and the head teacher of her school, Terry Boatwright, have expressed their "delight" that she has been found.
"Throughout the last week, finding Megan has been everyone's priority and a major focus of our thoughts and prayers in school.
"Clearly, much needs to be done now to support Megan, and her family, as they seek to return to some sort of normality and we will do all we can to play our part in that," Mr Boatwright said.