Conservative MP ignites North East fact or figment row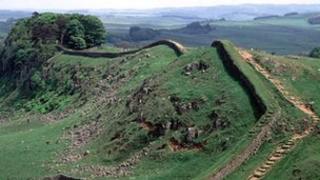 It's in my job title, it's in the title of the programme I present, but does the North East really exist?
One Conservative MP has suggested the North East of England is actually a "political construct", and not something that really exists in the hearts and minds of most of the people who live there.
In an article on the Conservative Home website, Stockton South MP James Wharton says he believes the borders of the region have been drawn arbitrarily.
He says that most people are more likely to consider themselves Tynesiders, Wearsiders or Teessiders (or in the local vernacular Geordies, Mackems and Smoggies).
He writes: "I care about and will fight for the North East, but to pretend it is one uniform place running from the North Yorkshire border to Scotland is a fallacy. People here do not describe themselves as North Easterners."
Common identity
His arguments though have upset those who firmly believe the North East and its people share a common identity.
Many in the Labour party and trade union movement believe there is a clear link between the communities in Northumberland, Tyne and Wear, County Durham and what used to be Cleveland.
Newcastle East's Labour MP Nick Brown said: "He states that the region has no natural boundaries, but this is clearly absurd.
"To the south of us we have Yorkshire, with a very clear and strong identity, to the north we have Scotland, with a confident national identity."
So who's right?
James Wharton certainly has some arguments on his side.
There are some boundary complications. Some people in the southern end of what's called the North East actually consider themselves to be living in Yorkshire.
James Wharton's own constituency is a clear example.
People in Stockton would identify with County Durham, but just across the Tees in Thornaby, people say they live in Yorkshire.
Loose definition
There are also different definitions. Northumbria was an ancient kingdom which encompassed the 'North East' but, as it also included Yorkshire too, it's hard to make a historical case.
And even we in the BBC have a loose definition as our broadcast boundaries reach deep into North Yorkshire, as far south as York.
In addition, the one real electoral test of regional identity doesn't give much evidence of there being a desire for regional togetherness.
In a referendum in 2004, people in the North East overwhelmingly rejected the idea of having a regionwide assembly of politicians.
But there are cultural links and a shared industrial legacy, and largely there is a decent geographical boundary.
And that referendum might just have been the rejection of a political institution rather than the concept of a region.
The region's voters actually also were of one mind, as every part of the North East voted no.
There is though, of course, politics involved in this.
Effectively, the region has ceased to exist politically. The government has abolished its regional development agency (One North East) the government regional office and regional plans - all created by Labour.
There may still be an Association of North East Councils and the region might still be referred to in unemployment and other statistics, but it has effectively been administratively deconstructed.
'Them and us'
James Wharton is keen that Conservative policies cannot be dismissed as 'anti-North East'.
He said: "Think tanks and politicians use the region concept as justification to proclaim that some policy is 'bad for the North East' and we immediately move to defend ourselves, not realising the terms of reference have already been framed to our (the Conservative Party's) disadvantage."
And it is true that it probably suits the Conservative's enemies in the Labour party and the trade unions to frame government policies as a 'them and us' situation - a southern-based government punishing the North East.
But then there is the reality of the political map of the region.
Yes, there are plenty of people who don't vote Labour, but the constituencies are largely a sea of red, with only two Conservatives and two Lib Dems breaking the Labour monopoly.
And many of those Labour seats remain super-safe. Voters in what you might call the North East do generally seem to have made a choice.
But without detailed polling evidence on regional identity, it seems hard to say who's right.
In the absence of that, perhaps you can tell me whether you think the North East is fact or figment.