Red squirrel mate found for lonely Norfolk male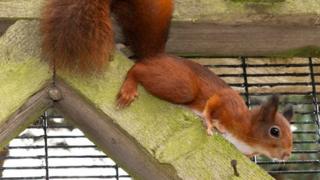 Hopes are high that a lonely red squirrel in Norfolk will find love after a potential mate was found in Cornwall for the long-term bachelor.
Kelling Heath Holiday Park, near Holt, has kept red squirrels since 1999 as part of a national conservation scheme has bred 20 kittens.
However, a shortage of females meant it took about a year to find a mate for their lovelorn 18-month-old male.
If the pair get on, staff hope they will breed in the spring.
'Fingers crossed'
The release of the non-native greys in the 19th Century is the main reason for the sharp decline in the number of red squirrels in the UK.
The grey is larger, more aggressive and better adapted to broad-leaved woodland. It is also is a carrier of the squirrel pox virus, which is deadly to the reds.
The Norfolk holiday park is now part of a breeding programme run by the East Anglian Red Squirrel Society.
The six-month-old female was part of a "swap deal" with Paradise Park in Cornwall, which specialises in breeding endangered wildlife.
In return for the potential mate, a male squirrel was taken to Cornwall.
David Martin, countryside manager at Kelling Heath, said: "We're very lucky to have found a mate for our squirrel at Kelling.
"Now we all have our fingers crossed that the pair get on so we can help to maintain and conserve the British Red Squirrel bloodline."
Any kittens the couple have are likely to be released into the wild at one of the UK's closely-monitored red squirrel habitats.