'Relief' in Eastbourne as missing Megan Stammers found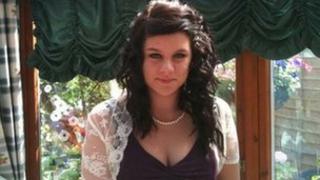 Friends and neighbours have spoken of their relief after missing schoolgirl Megan Stammers was found in France.
The alarm was raised a week ago when the teenager failed to turn up for school in Eastbourne, East Sussex.
It was later discovered she had boarded a ferry from Dover to Calais with maths teacher Jeremy Forrest the previous evening.
She was found with the teacher on Friday in Bordeaux, with French media saying the pair were on a street in the city centre.
'Relief at safety'
Soon afterwards Megan's stepfather sent out a message on Twitter about his "massive relief" at the news.
Neighbour Matthew Rumary said he witnessed the family's upset and desperate wait for news of the 15-year-old girl.
He said: "I am very, very pleased for them.
"Living next door, I felt quite sorry for them. They had been very upset."
He said the family had spoken of their ordeal every day during the week Megan spent abroad.
And Mr Rumary said the anxiety and upset had affected everyone on the street where Megan lived.
'Too quiet' without her
After the news came that Megan and Mr Forrest had been found, Terry Boatwright, head teacher of Bishop Bell School, where Megan is a pupil, said everyone in the school community was "delighted".
He said: "Throughout the last week, finding Megan has been everyone's priority and a major focus of our thoughts and prayers in school.
"Clearly, much needs to be done now to support Megan and her family, as they seek to return to some sort of normality and we will do all we can to play our part in that."
The school posted a "welcome home" message on its website.
It said: "Here are the messages posted from your friends and teachers who will be delighted to see you back."
One message said: "Megzy. ICT is soooooo quiet! Please come back."
And another said: "We miss you so much in the lessons. It is not the same......too quiet. Come back SOON. From Mrs B xx"
'Heart of gold'
Harrison Kenward, who was at school with Megan and her brother Luke, said: "I can't believe this has happened.
"She's a quiet girl, nice, shy, polite. You couldn't ask for a better daughter really and Mr Stammers is one of the nicest, most down-to-earth blokes you'll ever meet.
"I just can't believe it's happened to this family. You couldn't ask for a nicer family.
"I'm just glad she's been found and she's safe and she's been reunited with her mum and her family now."
He said he dreaded to think what Megan's brother Luke had been going through.
"If I lost my little sister, I don't know what I'd do," he said.
Harrison said he had known Megan for five years and during that time he had never heard a bad word said about her.
"Luke has got a heart of gold and she has got a heart of gold too and I'm so upset it's happened to this family.
"They must have been distraught. I don't know how they have kept strong through this."