Ronnie Barker: Oxford childhood home plaque unveiled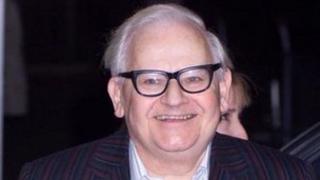 The late comedian Ronnie Barker is being commemorated with a blue plaque at the Oxford home where he grew up.
It will be unveiled at the site in Cowley on Saturday.
His family moved to Oxford from Bedford and bought the house at 23 Church Cowley Road in 1935 when Ronnie was five. He lived there until 1949.
The Porridge and Two Ronnies star's first job after leaving school in the city was clerking at the Westminster Bank in Cowley.
He later moved to Aylesbury and died in 2005, aged 76.
Moved back in 1981
The comedy star attended Donnington Junior School and won a scholarship to the City of Oxford High School for Boys, which is now Oxford University History Faculty building, in George Street.
His first taste of acting came with the Theatre Players, an amateur group which he joined while at the bank and took part in their performances at Oxford's St Mary and St John Church Hall.
In 1981 Ronnie Barker returned to Oxfordshire, buying a country retreat at Dean.
After retiring from showbusiness in 1987 he opened and ran an antiques shop in Chipping Norton for ten years.
The plaque will be unveiled by the Lord Mayor, Councillor Alan Armitage, and Mike Chew, chairman of the City Of Oxford School Association, which donated the plaque.