Megan Stammers: TV appeal prompts 'Europe sightings'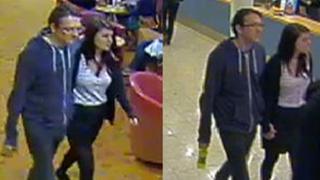 Detectives hunting for missing teenager Megan Stammers received seven calls about possible sightings across Europe following an appeal on BBC Crimewatch.
Jeremy Forrest, 30, and the 15-year-old girl have not been seen since they travelled to France on 20 September.
Her stepfather, Martin Stammers, said her disappearance had "devastated" their entire family and appealed for her to make contact.
Sussex Police said the calls were being followed up by detectives.
During the programme, Mr Stammers said: "It's awful. Not obviously just for me and Danielle (but) the family as a whole. It's just devastating, we're in pieces."
He added: "Megan, if you're seeing this, just pick up the phone, ring your mum.
"Your mum is in pieces darling, just pick up the phone, ring, just so we know you're OK."
'Get Megan home'
He also thanked people who had used social media to help spread their appeals to Megan.
"I can only express my gratitude to them from us as a family," Mr Stammers said.
"I just urge people to carry on tweeting, whatever is needed to get the message out there to get Megan home."
Presenter Kirsty Young told viewers of the Crimewatch update show the investigation team had received "lots of texts and emails from all across Europe" following Mr Stammers' appearance on the programme.
It was revealed on Thursday that a European arrest warrant had been issued for Mr Forrest, a teacher at Megan's school in Eastbourne.
A Surrey Police spokeswoman confirmed that details of a possible sighting of the pair in Paris by a British woman from Bramley, near Guildford, had been passed on to Sussex Police.
Mr Forrest's father Jim, from Petts Wood, south-east London, but originally from Scotland, also appealed for his son to get in touch at a police news conference on Thursday.
Megan was reported missing at about midday on Friday after she failed to turn up at the Bishop Bell C of E School.
The last sighting of the pair was from CCTV cameras on board a ferry from Dover at 21:30 BST last Thursday. It showed them arm-in-arm and hand-in-hand.
Ch Insp Jason Tingley said there had been "rumoured sightings and information" passed to police from countries "throughout Europe".