Port of Ipswich says no more live animal exports planned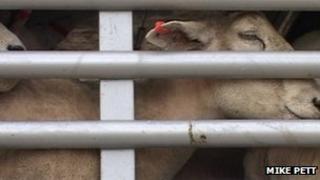 Animal welfare campaigners say they are "delighted" that no further live animal exports are planned from Ipswich.
The RSPCA said operations had been suspended from the Port of Ipswich a week after sheep were sent overseas.
A spokesperson for the Associated British Ports (ABP) said: "We can confirm that there are no arrangements in place for further shipments."
Two weeks ago, the Port of Ramsgate stopped exports after 45 sheep died in two separate incidents.
RSPCA chief executive Gavin Grant said: "[ABP] are taking their responsibilities seriously to the animals.
"ABP have acknowledged to the RSPCA that, like Ramsgate, their port did not have suitable facilities to help the animals should an emergency arise."
Public meeting
More than 20 protesters gathered at the Port of Ipswich last Friday night as the first sheep were exported.
The operation had moved to the town a week after 43 sheep were put down in Kent after a lorry was stopped at the port. The drivers were arrested and bailed.
In a separate accident, a loading area floor collapsed while the sheep were being taken off the lorry and two more drowned.
A public meeting is taking place later at Ipswich Town Hall, hosted by the RSPCA and Compassion in World Farming (CWF), to discuss the exports.
Dil Peeling, director of public affairs of CWF said: "This is currently only a suspension and exports could still resume from this port.
"There is also a distinct possibility that exporters will seek an alternative port as they did following the previous suspension at Ramsgate."
The National Farmers' Union has called on the Port of Ramsgate to resume live animal exports.
Peter Garbutt, the NFU's chief livestock adviser, said: "Exporting animals is a legal trade that is carried out throughout Europe.
"The health and welfare of the animals through transit is the top priority of farmers."