Megan Stammers: Missing girl prompts limited French reaction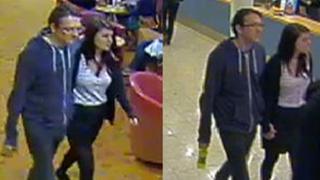 The disappearance of schoolgirl Megan Stammers with her 30-year-old teacher has been a major focus of attention for British media and police - but reaction across the Channel has been quite different.
Megan and maths teacher Jeremy Forrest have not been seen since catching a ferry from Dover to France last Thursday.
But French proescutors have said the pair would not be committing an offence in France because Megan is 15 - the age of consent there.
And while the case is being investigated as a missing persons probe it is just one of many ongoing in France.
'Not actively searching'
A European arrest warrant for Mr Forrest, a teacher at Bishop Bell C of E school in Eastbourne, was issued by Sussex Police on Tuesday.
Ch Insp Jason Tingley, from Sussex Police, said the warrant and an international letter of request had enabled the force to work with European authorities.
But speaking to France 24 on Thursday, Boulogne-sur-Mer prosecutor Jean-Philippe Joubert said Megan and Mr Forrest would not be committing a criminal offence in France.
"Sussex police have filed an EU missing persons report, so if they are recognised by police or customs officials they will be detained," he said.
"But it's important to stress that the police have dozens of people on these missing persons' registers and they will not be actively searching for the couple.
"For example, the police will not be searching their mobile phone or credit card details because they are not part of any official investigation."
'A few short stories'
According to the BBC's Paris correspondent, Christian Fraser, reaction from the French media has also been limited.
He said said the "fundamental" problem is that Megan is over the age of consent and considered old enough under French law to think for herself.
"There's been no reaction in the French papers apart from a few short stories that have been recycled from the UK press," he said.
"And the French know they could be anywhere in Europe - you could drive to Poland without having to produce your passport.
"If there was a French girl missing in Britain in similar circumstances, what would the reaction from the press be?
"It's not their priority as they don't think the girl is in danger and she's old enough under French law to think for herself."