Lord Taylor and Lord Hanningfield ordered to pay thousands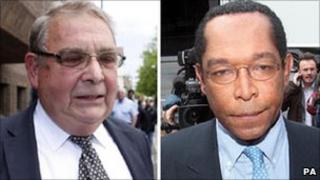 Two Conservative peers jailed for expenses fraud have been warned they could return to prison unless they pay back tens of thousands of pounds.
Lord Taylor of Warwick was told to pay £151,000 while former leader of Essex County Council Lord Hanningfield was ordered to pay £37,000.
The order was made by Mr Justice Saunders at Southwark Crown Court under the 2002 Proceeds of Crime Act.
The men were warned they have six months to repay the money.
Lord Taylor faces 27 months in jail if he fails to pay, Lord Hanningfield 15 months.
The 2002 legislation allows prosecutors to deem any property obtained in the six years before any criminal charges as resulting from criminal activity. The burden is on the defendants to prove otherwise.
John Taylor, 60, who was created Baron Taylor of Warwick in 1996 - becoming the first black Tory peer - was sentenced to 12 months in May 2011 for falsely claiming £11,277 in parliamentary expenses.
Paul White, 72, who was made Baron Hanningfield in 1998, was jailed for nine months in July 2011 after being convicted of false accounting relating to nearly £14,000 of claims.
Both men were released early, it was revealed in September last year.