Nick Clegg says there is 'no magic wand' to create jobs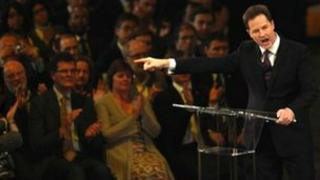 The Deputy Prime Minister has said there is no "magic wand solution" to create jobs in the north of England.
Nick Clegg admitted the level of unemployment in northern cities like Hull was "depressing".
But he said the government would provide subsidies to companies which invest in the offshore wind industry on the Humber.
Latest figures suggest that in parts of Hull up to 38 people are chasing every job vacancy.
In an interview for BBC Look North, Nick Clegg said: "My heart goes out to those people who've lost their job and I wish we had a magic wand solution to the deep seated economic problems we inherited."
Difficult year
In his keynote speech to the Liberal Democrat conference in Brighton, Nick Clegg urged delegates to show "courage and vision" in making the coalition work.
It's been another difficult year for the party.
May's local elections saw the Lib Dems lose more council seats to Labour in Hull - a city they controlled until last year's meltdown at the polls.
Mr Clegg said the government was working "flat out" to ensure the engineering giant Siemens goes ahead with a proposed new wind turbine factory in Hull.
He added: "To keep bills lower than they would be, it's right now to take the long term view to provide the subsidies, to provide the incentives as a government to make sure that companies like Siemens create jobs in places like Hull to create new offshore wind capacity."
But Labour MPs have criticised the Deputy Prime Minister's comments.
Hull North MP Diana Johnson said: "On the basis of a few phone calls, Nick Clegg tries to claim credit for the hard graft done by many in Hull over the past few years to bring Siemens to Hull - notably in the Hull business community and the local authority."
Following his much publicised apology over his broken promise on increasing student tuition fees, Nick Clegg's critics believe his future actions must speak louder than words.