Justin Lee Collins 'pushed girlfriend into traffic'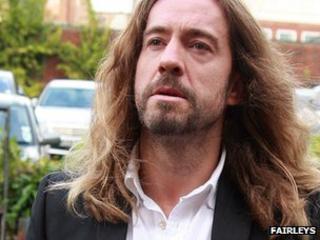 TV presenter Justin Lee Collins pushed his girlfriend in front of traffic after a drinking session with his co-star Alan Carr, a court has heard.
Anna Larke, 38, told jurors at St Albans Crown Court it was part of the abuse she suffered during her nine-month relationship with Mr Collins.
Ms Larke, of Pirton, Hertfordshire, said Mr Collins was drunk at the time of the alleged incident.
The comedian denies a charge of harassment, causing fear of violence.
Giving evidence from behind a curtain, Ms Larke spoke of her night out with Mr Collins and Mr Carr.
"Justin shoved me in the back and pushed me into the traffic," she said.
"He was drunk. I was lucky a man stepped in to save me."
'Drive me insane'
Asked by Sonia Woodley QC, for Mr Collins, if Mr Carr could confirm her story, she replied: "Alan was drunk as well."
The jury of nine women and three men has heard that Mr Collins, also 38, who has been appearing in the West End hit Rock of Ages, used a Pukka pad notebook to list every sexual experience Ms Larke had with every one of her previous lovers.
He is alleged to have "controlled" Ms Larke by forcing her to close her Facebook, Twitter and email accounts, once he had read all the messages.
The Bristol-born comic, from High Park Road, Kew, pleads not guilty to harassment by causing Ms Larke fear of violence between 1 January and 1 August last year.
It is alleged he assaulted her and threatened her with violence.
Under cross examination, Ms Larke denied being "emotional, obsessive, paranoid and volatile."
She said: "He used to drive me insane."
Miss Woodley put to Ms Larke that it was her idea to compile the Pukka pad notebook about her past because she wanted to "unburden herself".
Ms Larke replied: "The Pukka Pad was a stick he used to beat me in the relationship."
Prosecutor Peter Shaw said the relationship was "characterised by this defendant exerting control over her, verbally abusing her and physically assaulting her".
The trial continues.