Justin Lee Collins 'must show contrition'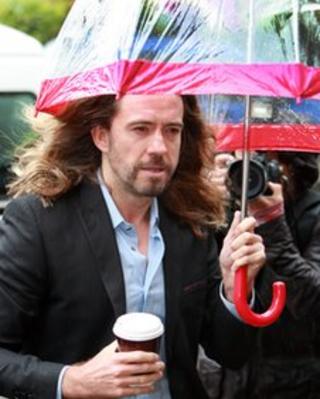 Little was known about the private life of TV presenter and comedian Justin Lee Collins until a succession of sordid and shocking details emerged during his harassment trial.
St Albans Crown Court heard the television presenter had a "prurient" interest in Anna Larke's sexual history and kept a "dossier" in which he detailed every experience she had had with her previous lovers.
He then used its contents as a reason to verbally abuse and assault her "again and again", the jury heard.
The "controlling" Bristolian slapped her in the face, spat on her, pulled her hair and threatened to put her in hospital during their nine-month relationship.
Ms Larke was also given derogatory names by Collins, who accused her of having sexually-transmitted diseases and made her delete her Facebook and Twitter accounts once he had read them.
Screams attracted staff
His affair with Ms Larke made a small ripple in the press at the time and in February 2011 he was photographed on a Miami beach with her, after splitting from his wife.
But it was in Miami, the court heard, that Ms Larke was verbally and physically abused by Collins so violently her screams attracted hotel staff.
The jury rejected Collins' claims he was trying protect Ms Larke, a recovering alcoholic, from self-harming.
Barrister Sonia Woodley QC, defending, asked the jury if they could exclude the possibility Ms Larke was a fantasist.
But every word from prosecutor Peter Shaw and Ms Larke seemed to chip away at Collins' image as "JLC", the affable shaggy-haired presenter - the kind of man fans would like to call a mate and share a pint with.
The 38-year-old rose to fame on Channel 4's The Friday Night Project with co-host Alan Carr and later had his own nostalgia-based shows.
He was last seen in a year-long run in West End musical Rock of Ages, which ended shortly before his trial began.
His agent has said he will not comment, while Channels 4 and 5 have already said they have not worked with Collins for some time.
Celebrity publicist Max Clifford said, whatever Collins' long term plans may be, he must first make it clear he sincerely regrets what happened with Ms Larke.
"People don't like violent men who beat up women, [so he must make] a heartfelt apology and seek anger management," said Mr Clifford.
"It's something that he's got to do - to apologise to her and to show to everyone that he is sorry.
"It has to be public because this [the court case] is public."
He added: "I think the sensible thing would be for him to take six months off to conquer his demons."
'Darts of Destiny'
Just three years ago, Collins had his own self-titled chat show on ITV2 and interviewed Rihanna, Ewan McGregor, Billie Piper, Catherine Tate and Gok Wan.
In the show's "Darts of Destiny" segment, Collins jokingly resolved viewers' relationship dilemmas by throwing darts at a dartboard covered in cards giving different answers.
He had built up a reputation as a multi-tasker and, in his "Conventions Crasher" and "Justin is..." series, tried to convince others he was adept at wrestling, high-diving and surfing.
One task was ballroom dancing and when asked in an interview for Radio 1 Newsbeat about Strictly Come Dancing, Collins said he loved "celebs in jeopardy" shows.
Whether Collins manages to recover a career from his own precarious position remains to be seen.