Megan Stammers: Pupils' shock over Jeremy Forrest relationship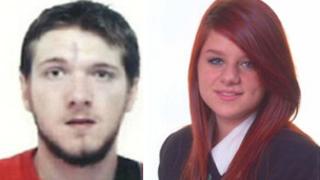 Former pupils of maths teacher Jeremy Forrest have expressed their shock on learning that he has gone missing with teenager Megan Stammers.
Will Jacobs, 16, who was taught by him at the Bishop Bell C of E School in Eastbourne, East Sussex, said he had been "quite a timid little man".
"Out of every teacher no-one would have thought that he would have done it."
Police across Europe are searching for Megan, 15, and Mr Forrest, 30, after they travelled to France last Thursday.
Students have described Mr Forrest as a "great teacher" and a "great guy" who was liked by everyone and had a good reputation.
Dance class
Stefan Gorzynski, 16, said: "He's the main reason I got an A in GCSE maths. I had him for three years.
"When the rumours started going round I thought it was completely untrue.
"I'm just shocked that it was him as everyone really liked him."
Jake Roberts, 16, added that he was taught by Mr Forrest for three years and said: "I never had a bad word to say about him."
Another former pupil, 16-year-old Shanice Dolan, was in a dance class with Megan, who was a year below her, in May, but said she had not heard any of the rumours until she went missing.
"She was very quiet. I didn't really speak to her much. I'm really surprised."
In a statement on Wednesday, the Bishop Bell C of E School said its "concerns, thoughts and prayers" were for Megan and her family.
'Safe return'
Terry Boatwright, executive head teacher, said: "Clearly, everyone's main priority is Megan's safe return home.
"We would echo the call made by the police and the pleas made by the family that anyone with any information should contact the police.
"The school is a close-knit community and Megan's disappearance has affected everyone connected with it."
Mr Forrest was a teacher at Bishop Justus C of E School, in Bromley, south-east London, until 2009.
He also taught at The Causeway School, in Eastbourne, two years ago for a few months on a part-time basis, as part of a partnership arrangement with the Bishop Bell C of E School.