Two soldiers run 434 miles to mark Afghanistan fallen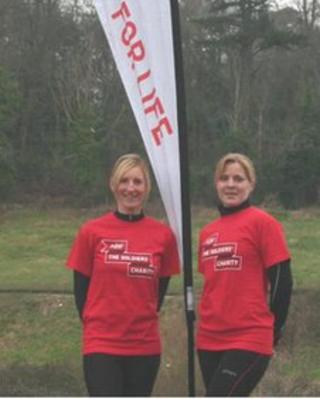 Two female soldiers are running 434 miles (698 km) to mark the number of UK service people killed in Afghanistan.
Sgt Sonia Clamp, an Army physical training instructor from Shrewsbury, is running with Capt Nicky Jefferson, of the Royal Signals in Nottingham.
They will run the equivalent of about 16 marathons in 11 days to mark the 11th anniversary of the conflict.
The money will go to the ABF Soldiers' Charity which helps injured soldiers and bereaved families.
The two soldiers left on their Afghan Memorial Run from the National Memorial Arboretum in Alrewas, Staffordshire, on Thursday.
Sgt Clamp, said they paid their respects to fallen soldiers at the Armed Forces Memorial at the start of the run.
"The atmosphere was so beautiful and so humbling," she said.
Sgt Clamp said the run would take in other significant places, such as RAF Brize Norton and Royal Wootton Bassett where soldiers' bodies have been repatriated.
On the first day, the two women ran 37 miles (59.5km) to Birmingham's Queen Elizabeth Hospital, which treats many injured soldiers.
Sgt Clamp said she "felt fine" after the run, adding that despite being an Army physical training instructor she had spent weekends doing extra training for the endeavour.
Other places included on the run are Hereford War Memorial, Sandhurst and Headley Court's rehabilitation unit.
Sgt Clamp said: "A lot of the soldiers I have trained over 11 years have gone to Afghanistan and I also spent some time at Headley Court where I was inspired by the soldiers and their attitude."
Rehabilitation grants
She said she had seen comrades killed in action, including three officers she trained at Sandhurst.
Richard Hackett, the Soldiers' Charity regional director for the West Midlands, expressed admiration for the runners and the "gruelling event" they had undertaken.
"The money raised will go directly to helping soldiers and their families in the region," he said.
"Specifically we give grants to wounded and injured soldiers undergoing rehabilitation at the personnel recovery unit at Shrewsbury, Shropshire, to provide vocational training to return soldiers to duty or transition back to civilian life."
The run is set to end at barracks in Ternhill, Shropshire, where Sgt Clamp is based.
A total of 200 Rangers, as well as soldiers' families, are expected to join in the last mile of the run on 7 October and the sergeant added anyone was welcome to join in.