Nick Clegg appeals to supporters to hold their nerve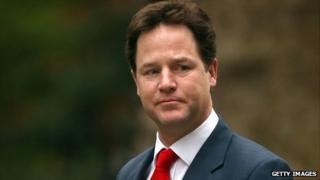 There's no doubt Nick Clegg had a tough week ahead of his party's conference in Brighton, having apologised over breaking the party's pledge on tuition fees.
At the conference, surrounded by supporters, he'll hope to draw a line under that.
Not that it hasn't been raised - by broadcasters (Andrew Marr made him sit through the remixed version of his apology which entered the iTunes chart) and by some delegates.
But his speech was all about appealing to delegates - and voters - to hold their nerve and not give up on the coalition.
'Fairer society'
His message was that the Liberal Democrats are making a big difference.
He took a swipe at Labour and the Conservatives saying: "The truth is, only the Liberal Democrats can be trusted on the economy and relied upon to deliver a fairer society too."
As part of that fairer society the Lib Dems say that all future cuts in personal taxation must pass a clear test - do they help people on low and middle incomes?
He also warned the Conservatives that they should be in no doubt that the Lib Dems will hold them to their promises to be the greenest government ever.
The Liberal Democrats hold their green credentials dear.
This week the party voted against any new hub airport or in fact any increase in runways at Heathrow, Gatwick or Stansted.
Political game?
They've also voted for a relaxation in planning legislation which they say is crucial to tackling the lack of house building and chronic housing shortages in certain parts of the country, such as the South East.
So is this a sign of hostility within the coalition?
No, it's part of the political game.
In this party conference season the parties are freed from the constraints of coalition and can play up their Liberal Democrat policies and appeal to their core voters.
Once the conferences are over and the leaders and MPs return to Westminster, normal service will resume.