Justin Lee Collins 'kept girlfriend's sexual history'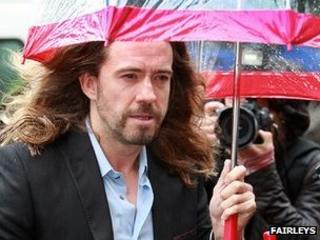 TV presenter Justin Lee Collins forced his girlfriend to recount her past sexual experiences for a graphic notebook dossier, a court has heard.
Mr Collins, 38, denies harassing Anna Larke, of Pirton, Hertfordshire, causing her fear of violence.
St Albans Crown Court heard Mr Collins had a "prurient" interest in her previous relationships, which he "used against her in arguments and assaults".
It is alleged he verbally abused and physically assaulted her, last year.
Mr Collins, star of Channel 4's Friday Night Project, recently appeared in the West End musical Rock of Ages.
The jury heard that to "control" Ms Larke, also 38, he forced her to close her Facebook, Twitter and email accounts once he had read messages.
'Campaign of abuse'
In an interview with police, Ms Larke described her nine months of "emotional, verbal and physical abuse" at the hands of the "man I loved".
"It has destroyed my life," she said. "I have no confidence. I don't want to go out anymore."
Mr Collins is said to have asked her who she was texting or phoning, insisted she did not sleep with her back against him and made her get rid of DVDs which featured actors she might find attractive.
Prosecutor Peter Shaw said Mr Collins began a "campaign of abuse" and asked questions about Ms Larke's sexual history and wrote "done" in the notepad when he was satisfied with an answer.
Mr Collins once told her she was "riddled with sexually-transmitted diseases", the court heard.
Explaining the star's controlling nature, Ms Larke said: "He wanted a full sexual history of me. He wanted all the details and wanted to write it all down.
"He wanted to know every single person I had slept with or had an encounter with. He said it was for clarity so he could get to grips with my past.
"I felt absolutely horrible and disgusted. I was really scared. I thought I was going to lose him. He said: 'If you don't do it you will lose me'. All the time he brought stuff up from the past. I shouldn't have done it.
'Screaming for help'
"Every aspect of my life had to be open for him to dissect. I had to account for what I had been doing."
The Bristol-born comic, from High Park Road, Kew, London, pleads not guilty to a charge of harassment by causing Ms Larke fear of violence between January and August last year.
The couple had a nine-month relationship from November 2010, during which Ms Larke struggled with alcoholism, the court heard.
Mr Collins would lose his temper and hit her in the face, pulled her hair and "would at times threaten to put her in hospital unless she shut up", the court heard.
Ms Larke screamed so loudly after Mr Collins grabbed her hair, pulled her to the floor and spat on her in a hotel room that staff came to check on them, Mr Shaw said.
On another occasion, in May last year, she was "forced to flee the flat, screaming for help", when he accused her of infidelity and slapped her, the jury was told.
A recording was played to the court of Ms Larke on her mobile phone, in which Mr Collins apparently called her a slag and accused her of having unprotected sex with many men.
Mr Shaw said Ms Larke told police she had made the recording in case she ever needed reminding of why the relationship ended.
"He accused me of fancying other men," she said in the police interview.
"He had such a temper on him... My self-esteem couldn't have been lower."
When questioned by police, Mr Collins said Ms Larke had wanted to detail her sexual history for therapeutic reasons and said she had self-harmed.
The case continues.