Brittany Ferries strike 'will not threaten future in Plymouth'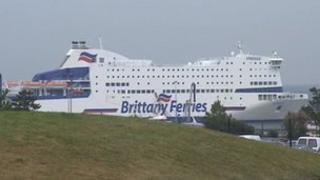 A labour dispute by some French staff of Brittany Ferries poses no threat to the company's long-term future in Plymouth, the firm has said.
Wildcat strikes by French staff began last Thursday over proposals to withdraw workers' allowances and change their working hours.
Earlier this week, the company said the action had cost it millions of pounds.
It has since added that it had good cash reserves which would see it through "for the foreseeable future".
UK headquarters
The industrial action has resulted in most sailings being suspended indefinitely.
Routes cancelled include sailings from Plymouth to Roscoff and Santander; and Portsmouth to Caen, Cherbourg, St Malo and Bilbao.
The only route unaffected by the industrial action is the Poole-Cherbourg passenger service, which is operated by Condor Ferries on behalf of Brittany Ferries.
The company said it was "inconceivable" that services might not continue out of Plymouth, given that Plymouth to Roscoff was the route around which the whole company had grown.
Plymouth is still the firm's UK headquarters, with Roscoff the overall company HQ.
The next meeting between management and unions is due in Roscoff at 14:00 BST.
Brittany Ferries spokesman Stephen Tuckwell said the company was still working to end the dispute, but that changes still needed to be made to secure its future.
He said: "We need to secure an agreement that is going to safeguard the company and its jobs.
"So it's very important that we reach an agreement which is viable, and that's why it has taken a bit of time."
Passengers can visit the company's website for the latest information.