John Constable barge restored for River Stour trips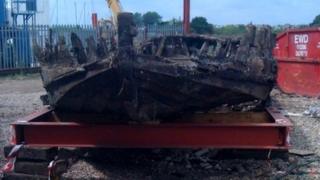 A horse-drawn barge named after artist John Constable has been restored after decaying for nearly a century.
The vessel, which worked in Stour valley on the Essex-Suffolk border where the artist painted scenes including similar boats, cost £100,000.
The boat, a Stour lighter, was taken out of service in 1914 and had decayed in mud and silt.
Apprentices have learned traditional skills for the restoration and the boat will now be used for river trips.
Chris Burton, scheme manager for the Dedham Vale Area of Outstanding Natural Beauty (AONB), said: "It's all about landscape archaeology, so it tells us what people's lives were like and we learn how things were built by doing it ourselves."
The boat is believed to be 150 years old and it was used to transport coal, bricks, lime, flour and wheat, between Sudbury and Mistley.
Scuttled for war
Constable featured one in his painting, Boat Building near Flatford Mill (1815).
Project managers said the Royal Navy ordered lighters to be scuttled at the outbreak of World War I because they feared they might fall into German hands and be used for moving troops.
The skeleton of the vessel was raised from Great Cornard Lock in 2010 to be restored by the Pioneer Sailing Trust at Brightlingsea in Essex, which has been able to start two apprenticeships in boat-building.
Only about 10% of the original 47ft (14m) boat remains, but traditional materials have been used for its restoration.
Neil Catchpole, project officer with the Dedham Vale AONB, said: "These lighters were very important to the trade of the Stour before roads were improved and the railways came, which eventually completely superseded the canals."
The River Stour Trust will now take ownership of the boat and river trips are due to begin next spring.