Manchester police deaths: 'Poor joke' councillor under pressure to resign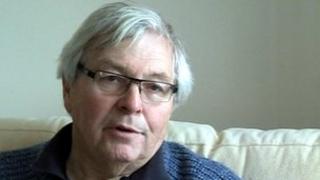 Pressure is mounting on a Conservative councillor in Derbyshire to resign over a "poor joke" about two Manchester police officers who were shot dead.
PC Fiona Bone and PC Nicola Hughes were killed in Mottram last Tuesday.
David Stephenson has already lost his cabinet position with Erewash Borough Council over comments about scoring points for killing police officers.
Ian Hanson, chairman of the Greater Manchester Police Federation, said the councillor should stand down.
Mr Hanson said: "This is an insult to their memory and it's an insult to the force.
"The Conservative Party should put pressure on this individual to stand down as an elected representative."
The Chief Constable of Derbyshire Police Mick Creedon said Mr Stephenson's remarks were "off the scale offensive".
He said: "I still think that he doesn't get the gravity of what he's said.
"I think Mr Stephenson needs to go and reflect deeply on what he said and the degree of hurt this will have caused to many police officers."
'Very severe'
Mr Stephenson made the comments in front of the wife of a sergeant with Nottinghamshire Police.
She told her husband and he then complained to the council.
Mr Stephenson was removed from his cabinet position by Erewash Borough Council leader Chris Corbett, who described Mr Stephenson's comments as "inappropriate and crass".
He said: "I support the police completely in the difficult job they do serving our communities, and the words used by Councillor Stephenson do not reflect in any way the opinions of myself or the Conservative Party, locally or nationally."
Mr Stephenson has apologised, and said: "What I did was undoubtedly tactless - it was a poor joke."
But he compared his case to that of Chief Whip Andrew Mitchell, who escaped calls for his job after an outburst at police officers on duty at the gates to Downing Street.
Mr Stephenson said his punishment was "very severe" compared to Mr Mitchell.
The councillor has lost his cabinet seat but remains the elected councillor for Little Hallam in Derbyshire.
A vigil attended by hundreds of people was held for PCs Bone and Hughes in Mottram on Tuesday.
A man has been charged with their murders.
Funerals for the dead officers will take place at Manchester Cathedral on Wednesday 3 October and Thursday 4 October.