Manchester police deaths: 'Poor joke' councillor loses post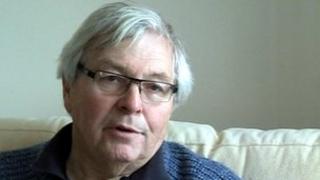 A senior Derbyshire councillor has lost his cabinet position after making a "poor joke" about two Manchester police officers who were shot dead last week.
PC Fiona Bone and PC Nicola Hughes were killed in Mottram last Tuesday.
David Stephenson was removed by Erewash Borough Council leader Chris Corbett for his remarks about scoring points for killing police officers.
Mr Stephenson said: "What I did was undoubtedly tactless - it was a poor joke and I apologise."
However the Conservative councillor said he believed his punishment was harsh.
Mr Stephenson made the comments in front of the wife of a sergeant with Nottinghamshire Police.
'Inappropriate and crass'
She told her husband and he then complained to the council.
Mr Corbett described Mr Stephenson's comments as "inappropriate and crass".
He said: "I support the police completely in the difficult job they do serving our communities, and the words used by Councillor Stephenson do not reflect in any way the opinions of myself or the Conservative Party, locally or nationally.
"As the father of a serving police officer myself, I am well aware of the hurt being suffered by the police force at present and know the worries experienced by their families.
"I apologise for the great upset this matter has clearly caused to all those involved."
Mr Stephenson loses his cabinet seat but remains as councillor for Little Hallam in Derbyshire.
A vigil attended by hundreds of people was held for PCs Bone and Hughes in Mottram earlier.
Dale Cregan, 29, is accused of their murders, along with those of father and son David and Mark Short.
Funerals for the dead officers will take place at Manchester Cathedral on Wednesday 3 and Thursday 4 October.
PC Hughes's service will be held at 13:00 BST on Wednesday, with PC Bone's being held on the following day at 10:00 BST.