More talks in Brittany Ferries dispute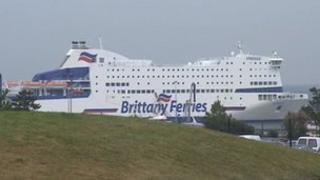 More talks are being held between Brittany Ferries and striking staff who have brought sailings between south and south-west England and France and Spain to a standstill, managers say.
Wildcat strikes by French staff began last Thursday over proposals to withdraw workers' allowances and change their working hours.
They resulted in most sailings being suspended indefinitely.
The firm said unions were discussing the latest proposals tabled on Tuesday.
'No other option'
Brittany Ferries is trying to reduce costs following three years of losses caused by exchange rate fluctuations and rising fuel costs.
The industrial action is ongoing despite what were described as "constructive" talks during the weekend.
The company said the action had cost it millions of pounds.
Company spokesman Steven Tuckwell said: "The talks are ongoing. But, until an agreement is reached, there's not much to add."
Passengers have been advised to travel to Dover or Calais.
The company said it was "very sympathetic to the concerns and disruption to business caused by having to drive all the way to Dover".
It added: "Unfortunately, there is no other practical option whilst we are not operating, and we are very sorry that we are unable to provide our normal service."
Routes cancelled include sailings from Plymouth to Roscoff and Santander; and Portsmouth to Caen, Cherbourg, St Malo and Bilbao.
The only route unaffected by the industrial action is the Poole-Cherbourg passenger service, which is operated by Condor Ferries on behalf of Brittany Ferries.
Passengers can visit the company's website for the latest information.