Megan Stammers search: 'Friends may know where she planned to go'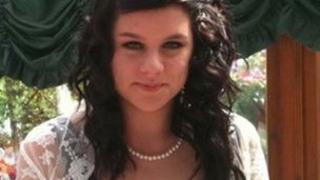 The friends of missing teenager Megan Stammers may know where she planned to go, detectives believe.
Megan, 15, from Eastbourne, East Sussex was reported missing on Friday after she failed to turn up for school.
She travelled to France with Jeremy Forrest, 30, her maths teacher at the Bishop Bell C of E School.
Ch Insp Jason Tingley told BBC Radio 4's Today that her friends might have been aware of Mr Forrest's and Megan's disappearance being planned.
He said children, pupils or friends "may be aware of where they were likely to go to so I would also ask them to come forward, and don't be scared, and don't feel you're in trouble if you've not disclosed any of that information so far".
He added: "We do know that she [Megan] has spoken about perhaps going somewhere but we just need to get really into the specific detail of that."
Speaking previously, Mr Tingley disclosed that it appeared one of Megan's friends had received a message saying she had arrived in France.
"I can't give a specific time or date but we know there was a message passed to one of her good friends to say she had arrived safely in France.
"I can't say that message was from her but we believe it was.
"That gives us some comfort that she has arrived safely and she is in France. That's our last contact."
The message was not sent from Megan's phone, police said.
The school said concerns about Mr Forrest's and Megan's relationship had been raised before their disappearance.
And a spokesman for East Sussex County Council said the authority had also been "addressing and investigating concerns" when the pair left the country.
'CSI effect'
Mark Williams-Thomas, a criminologist and child protection expert, said the police faced a "very delicate situation".
He said: "These are two individuals who are riding on emotions and a critical crisis point developed.
"The appeal... from police is a two-pronged approach, we've seen the very delicate approach appealing to Megan to come back, telling her that she's not in any trouble but as well as that the police will be employing certain different techniques behind the scenes."
But he said there were issues with trying to locate the pair due to different levels of CCTV in Europe and media coverage of the case.
He said: "We don't know how much media they're aware of... and of course it may well be that they've moved outside of France because the borders now are fairly open so they could quite as well be in Spain, Italy or Belgium."
'Profound concern'
He added although the police could try to locate people through credit card and mobile phone usage most people were aware of this through the "CSI effect".
Liberal Democrat MP for Eastbourne Stephen Lloyd said: "My profound concern goes out to Megan and her parents. I can see how incredibly difficult and upsetting this must be.
"We are all praying that the sooner Megan comes back to Eastbourne the better."
He added: "I have spoken to Bishop Bell [school] and I have had a briefing with the police.
"I know Bishop Bell well and I'm confident that their procedures have been exemplary.
"I'm glad that they are conducting a report into this and I look forward to seeing that once it is completed."
Appealing to her daughter at a news conference on Monday, Megan's mother Danielle Wilson said: "Sweetheart, I don't care what you've done or why, I just want you home."
Ms Wilson has revealed that Megan had been receiving extra-curricular maths lessons since before the summer, but the family did not suspect there was any relationship between her and Mr Forrest, a married amateur musician from Ringmer, near Lewes.
Megan's stepfather Martin Stammers said he was "aware" of Mr Forrest but did not go into further detail.
Police said Megan and Mr Forrest boarded a ferry from Dover to Calais on Thursday evening.