Blackpool lights: Facing a bright future?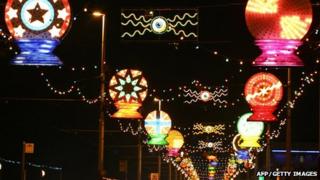 Blackpool Illuminations, the seaside light show which is a highlight to many of the autumn tourism season, is 100 years old.
Electric street lighting was trialled on the Promenade in the autumn of 1879 as a way of extending the summer season.
Then, as now, the lighting spectacle was funded by the local authority, but it was not until May 1912 that the opening of the Princess Parade was celebrated with 120,000 electric lights.
The lift to the spring season was noted and the illuminations were brought back in September marking the start of a 100-year tradition of autumn illuminations - but can the show keep going in its present form?
'Great novelty'
Prof John Walton, who has written extensively about British holiday traditions, said seaside resorts were always at the forefront of innovations such as electric lighting.
He said: "In 1879 Blackpool had electric street lighting and that was a great novelty.
"Brighton [another seaside town] has the world's longest continuous public electricity supply.
"In 1912 most urban lighting was still gas so if you went to Blackpool you saw something really innovative."
He added extending the season was a huge concern for people working in the tourism industry with those in Blackpool describing their lives as "three months hard labour followed by nine months of solitary confinement".
A number of schemes were trialled to continue the season including motor racing and an airplane festival but it was the Illuminations that was to prove the biggest success, with other resorts quick to copy.
Illuminations at towns such as Morecambe have been lost to time and others like Walsall's lights have been cancelled after they made a loss, but Blackpool has endured through the decline of the British holiday, council budget cuts and competing forms of entertainment.
Prof Walton said while local authorities had lost spending power and focussed more on core services Blackpool was "unique" as it still continued to invest heavily in its illuminations.
'Punter view'
The council allocates a budget of £2m to the lights annually with new features and displays funded through public donations and business sponsorship.
Councillor Graham Cain, cabinet member for tourism and culture, said the nine week show is "vital" to the tourism economy across the Fylde Coast.
He said: "Whilst the Illuminations contains much tradition and has the heritage of a long established show it has much new technology both behind the scenes and in the view of the punter.
"We recognise that the show must be seen to move with the times and whilst it will take a while to change all aspects of a six-mile show with over 50 separate installations we are bringing everything up-to-date."
He said recent innovations included using renewable energy sources and LED and digital lighting while also re-wiring heritage displays to reduce energy consumption.
Seaside historian Kathryn Ferry said the Illuminations' success needed to be understood by looking at the time in which they were created, when ordinary working people headed to the seaside in their thousands.
She said: "The seaside was so successful in that period, it was the place to go and the Illuminations happened in the context of a lot of resorts competing with each other.
"It still appeals to ordinary working people, they're still going there, but they don't have very much money.
"The only way to make money is to have an awful lot of them, these days you don't have those numbers of people so if resorts want to continue they have to branch out and offer something to middle class people."
Vegas, Dubai, Blackpool
She cited examples of resorts such as Whitstable where people go for gourmet ice cream and "posh fish and chips" instead of amusement arcades.
Prof Fred Gray, from the University of Sussex, agrees Blackpool cannot keep going by doing the same as it always has.
"After a century, and despite continual investment, Blackpool's Illuminations are creaking at the edges.
"But they are still the greatest artificial free show in Britain that is sustained each year. Much of this success is down to Blackpool Council.
"Blackpool has always been at its best when it innovates, copies and adapts - think of the Tower.
"So the resort needs to copy and adapt the best from elsewhere - Las Vegas and Dubai for example."