Heavy rain causes floods and travel disruption across the West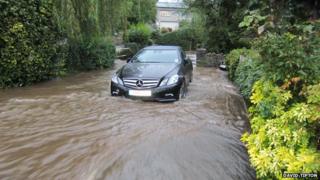 Heavy rain has led to flooding and travel disruption in Somerset, Gloucestershire, Wiltshire and Bristol.
The Environment Agency has issued flood warnings for parts of the region.
Flooding was reported in many areas, including Greinton near Glastonbury, Chew Magna and Clevedon in North Somerset, and the Forest of Dean.
First Great Western also advised travellers of delays or cancellations affecting trains in Somerset, Wiltshire, Gloucestershire and Bristol.
Twelve properties were flooded in Steam Mills, near Cinderford in the Forest of Dean, as the drains were unable to cope with the storm water.
Andy Fitt, watch commander at Cinderford Fire Station, said: "Because the drains were pretty much blocked, there was nowhere for the water runoff to go so it was just rising and entering the properties.
"The depth of the water inside was probably 6in-10in deep, so not massively deep but certainly enough to destroy the furniture and carpets and that sort of thing.
Mr Fitt added that Gloucestershire Highways had worked hard with a specialist jet in an attempt to clear the drains nearby.
Earlier on Monday, the railway line between Bristol and Weston-super-Mare reopened after flooding in the Flax Bourton area.
Trains running between south Wales and London Paddington were also disrupted by the weather.
The village of Chew Magna, 10 miles south of Bristol, was almost impassable with locals saying they had not seen water that deep for decades.
Transplant centre
Avon Fire and Rescue Service said it had dealt with more than 200 weather-related calls.
"Of these, 51 incidents were attended with 12 people rescued from vehicles or properties and advice given to 132 callers.
"Thankfully we've had no serious injuries but two people were rescued and 20 homes in Clover Close in Clevedon affected by floodwater," the fire and rescue service spokesman added.
South Wales Fire and Rescue Service has sent its high volume pump to North Bristol Park, Filton, Bristol, to help with flooding in the area.
One of the affected businesses is the NHS Blood and Transplant centre whose building had flooded.
A spokeswoman said it had activated its contingency plans and hospitals served by the centre were being supplied from other blood centres.
Avon and Somerset Police said a small number of motorists had been stranded in their vehicles and warned drivers not to attempt to go through deep water.
BBC Weather presenter Ian Fergusson said as of 17:00 BST up to 80mm (3.1in) of rain had fallen in parts of Somerset.
"While we expect a fair degree of dry and blustery weather to prevail into Tuesday morning further heavy showers followed by more widespread rain are quite capable of adding to localised flooding problems," Mr Fergusson said.
The Environment Agency has nine flood warnings have been issued for rivers in the South West of England.