West Midlands missed hospital appointments 'cost millions'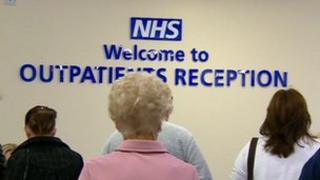 Missed hospital outpatient appointments cost the NHS in the West Midlands millions of pounds in the last year.
Between 2011-12 there were more than 6.7 million appointments across the region, but 646,656 were missed, research by BBC Sunday Politics found.
Lord Hunt of Kings Heath, who chairs the Heart of England NHS Trust, said the situation was "mayhem".
The West Midlands Strategic Health Authority said it expected hospitals to monitor missed appointments.
During 2011-12, the missed appointments have been calculated to have cost the NHS about £8m across Coventry's hospitals alone, and about £2m from missed consultations at Birmingham's Queen Elizabeth Hospital.
Birmingham peer Lord Hunt said: "It's mayhem. It's really bad for doctors and nurses because they don't know how many people are actually going to come or not.
"It wastes a lot of time and resources and we really need to do something about it."
Across England, over the same time period, a total of 5.5 million consultations were missed out of a total of 53 million appointments.
The Department of Health said it had been urging local health trusts to look into alternative options for some cases to avoid so much wasted time, such as holding consultations online.
Text messages
Kevin McGee, the chief executive of Nuneaton's George Eliot Hospital, said: "Every appointment that's missed is an appointment someone else could have had, and we could have speeded up care and treatment for another individual.
"We would encourage people to attend but if they can't, to notify us in advance."
In a statement, the West Midlands Strategic Health Authority said many hospitals across the region already sent out text message reminders to help prevent patients forgetting about their appointment.
It said: "We would expect our hospitals and primary care trusts to monitor the numbers of 'did not attends' as part of their routine monitoring arrangements and to identify areas of improvement."
It added: "We appeal to patients to keep their appointments wherever possible, or let the relevant hospital know if they cannot attend."