More wildcat strikes hit Brittany Ferries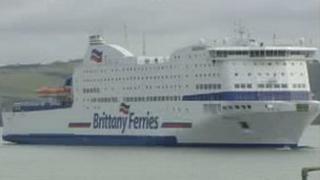 Hundreds of ferry passengers have been affected by a second wave of wildcat strikes on Brittany Ferries between France and England.
The company said its 17:30 BST Roscoff-Plymouth and 17:30 BST Caen-Portsmouth sailings had been called off because of industrial action by some French crew.
Sailings from Plymouth and Portsmouth on Friday morning are also off.
A strike last Thursday on the Armorique, which sails between Plymouth and Roscoff, affected 670 passengers.
That action was called by French crew members who were angry at proposed changes to working terms and conditions put forward by management.
The company said it was "very disappointing" that industrial action had "spread".