Broads access for wheelchair anglers on River Waveney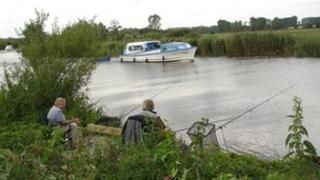 Opportunities to fish on the Broads have been improved for anglers in wheelchairs with the installation of platforms along the River Waveney.
Costing £50,000, the 10 wooden platforms and boardwalk have improved access on an existing 150m (500ft) of reed bed at Worlingham, Suffolk.
Mark Casto, chairman of the Broads Angling Strategy Group (BASG), said: "This is a fantastic resource.
"We're opening up the river to people who couldn't get here and fish before."
The project on the river that forms a border between Norfolk and Suffolk has been funded by the Broads Authority and Environment Agency.
A new bank upstream has also been prioritised for angling to compensate for a restriction on fishing from the adjacent small and busy 24-hour mooring at Worlingham.
"I've fished the River Waveney since I was a boy," said Mr Casto.
"A few years ago we had a muddy bank, but we've just had somebody down today really pleased that although he's disabled he can fish off a safe peg (platform) and enjoy a great day's fishing."