Cranfield firm's 'breakthrough' for English airships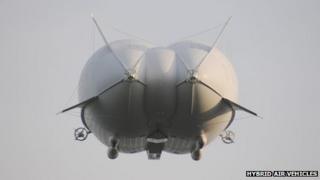 "There's a certain excitement in this breakthrough but at the same time it's not a happy history."
Historian John Swinfield is cautiously optimistic about a Bedfordshire firm making a success of modern-day airship engineering.
He knows how volatile the industry has been, beset by heavy loss of life and UK firms left out of business.
But firm Hybrid Air Vehicles Limited's success brings up to date a near century of history, with the new designs taking shape close to Cardington where, in 1918, two giant hangars housed the original flying machines.
Based in nearby Cranfield, the firm has designed a 400ft (122m) long "lighter-than-air" hybrid vehicle for the US Army, in a contract worth half a billion pounds. Their success could result in hundreds of jobs being created.
After years of working on the technology behind it, the first of three planned vehicles was assembled and sailed in August in New Jersey, in the US, ironically the location where the infamous airship Hindenburg went down in 1937.
Sky ocean liners
Experts say it is a landmark moment for England which boasts a rich but concentrated history of airship engineering.
Mr Swinfield, also an author, said: "They were the ocean liners of the sky in the early 20th Century but they were expensive and those brave enough to try discovered it's not easy to experiment.
"The industry was very volatile from around 1914 or 1915 then went into decline at around 1920 - Britain was bankrupt."
It was engineers in Germany and the US who went on to make initial success of airships.
The Graf Zeppelin operated from 1928 to 1937 and the Americans built two aircraft carriers, although "both ended in disaster", according to Mr Swinfield.
Britain built small airships carrying up to three people in World War I - Pulham St Mary in Norfolk was one of the UK's first main airship stations.
Bigger vehicles were developed in the 1920s, including the R100 designed by Sir Barnes Wallis and built in East Yorkshire.
The government-funded R101 was also built at a cost of £1.5m, equivalent to £80,445,087 according to the Bank England's Inflation Calculator.
Mr Swinfield said: "The R100's balloon covered five acres, it had a steel frame as high as a cathedral and as long as a football pitch.
"It provided employment for a huge number of people, 200 would work on an airship at any one time.
"Interestingly, many of the workers were women who would sew or stitch the balloon so they were really ahead of their time."
'Secretive' industry
Both sailed in 1930 but the R101 crashed in France leaving six out of 54 survivors, stunting the progress of the R100 which had successfully sailed to Montreal and was eventually scrapped.
Mr Swinfield said: "Many experts say the R101 was insufficiently tested and should not have sailed - combined with foul weather it brought about a catastrophe.
"After that the Hindenburg disaster killed world airship engineering and it became a taboo area.
"Developers have been up against real prejudice, that's why it's taken half a century to make any progress here and any work being done is very secretive.
"Until they finally roll a ship out of the shed it's very much kept under wraps."
Engineers at Hybrid Air Vehicles Limited agree.
Filled with helium, their new vehicle will be used as a piloted cargo carrier or unpiloted "unblinking stare" for surveillance by the US Army, according to the firm.
Expansion plans
Nick Allman, programme director, said a team of nearly 100 people worked on it and this could rise to 500 or more with plans to expand to other UK sites after "serious interest" from potential customers in Canada, the US, Brazil, the Middle East and Australia.
He said: "Aerospace engineering programmes normally take a long time - this one is unusual because we've completed it in two years and built all 30,000 components from scratch.
"We've completely focused on doing something no one else has done before."
Dr Mary Stopes-Roe who lives in Moseley, Birmingham, and is the daughter of Sir Barnes Wallis who built the R100 and died in 1979, said her father would have supported the plans.
She said: "He would also have been doubtful but that's only because he was a scientist and would have done calculations until reams and reams of paper were covered.
"But he'd welcome any attempt to bring airships back into use."
Mr Swinfield, whose book is published next month, said such "behemoths" have exciting potential.
"They could be used to fly personnel in and out of inhospitable areas or humanitarian disaster areas," he said.
"It's also a much more green mode of transport than regular air-borne planes.
"I don't think there'll be transatlantic trips but maybe as far as Europe - it gets kind of dangerous beyond that."