Didcot and Fawley power stations to close in March 2013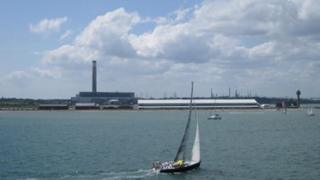 Two power stations in Oxfordshire and Hampshire which are more than 40 years old will close in 2013, the company that runs them has announced.
RWE npower said the 2,000 megawatt (MW) coal-fired Didcot A plant and 1,000 MW oil-fired Fawley would stop operating at the end of March next year.
The move is being made under an EU directive aimed at reducing pollution.
Didcot A Power Station began operating in 1970, while Fawley was commissioned in 1971.
'New opportunities'
Volker Beckers, chief executive officer of the firm, said: "We will be working hard with all our people at these sites throughout the coming months, to help identify new opportunities within our business wherever possible.
"Both of these stations were built more than 40 years ago, and have been the unsung heroes of our economy ever since, helping to keep the lights on and Britain working 24 hours a day, seven days a week.
"These closures, driven by government policy, reflect the changing shape of power generation in the UK with modern, low carbon power generation replacing older, less efficient power stations.
"RWE has invested more than £3bn in the UK over the past three years and now operates the largest installed capacity of both renewable and gas-fired power stations in the country."
Didcot A and Fawley power stations were both opted out of the EU's Large Combustion Plant Directive, which is is aimed at reducing emissions across Europe.
To comply with that they were required to cease generation by the end of December 2015 at the latest, or once an allocated number of operational hours were completed.
The plants' open cycle gas turbines will remain operational until further notice, RWE npower said.