Weymouth powerboat crash: Survivor remains in hospital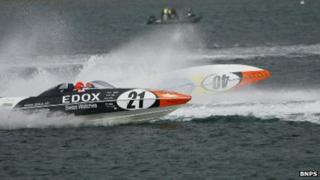 A powerboat racer whose team-mate died after their boat flipped over in a race in Dorset remains in hospital.
Navigator Dan Whapples was seriously hurt in the crash in Weymouth but is said to be "stable and improving" at Southampton General Hospital.
Mike Lovell suffered multiple injuries and died in hospital.
The two men, both from Southampton, had been taking part in the national powerboat racing championship when the accident happened on Sunday afternoon.
Thrown from boat
Despite being airlifted to Southampton General Hospital, race organisers P1 SuperStock confirmed Mr Lovell had died overnight on Sunday.
The pair were taking part in the last race of the final round of the season in Weymouth Bay when the crash happened at about 14:30 BST.
Portland Coastguard said Mr Lovell and Mr Whapples were rescued from the water near Weymouth Town Beach and the harbour.
Shelley Jory-Leigh, of BBC Radio Solent's H20 show and a former powerboating world champion, was commentating at the event and saw what happened.
She said their boat got caught up in the wash of the other boats and "barrel-rolled" throwing both men clear of the boat.
Ms Jory-Leigh said the safety teams were "absolutely amazing" and divers were in the water "in 30 seconds".