Weymouth powerboat crash: Mike Lovell dies from injuries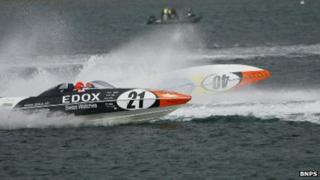 A powerboat racer has died after his craft flipped over during a race in Dorset.
Mike Lovell, from Southampton, suffered multiple injuries when his boat crashed in Weymouth, on Sunday.
Despite being airlifted to Southampton General Hospital, race organisers P1 SuperStock confirmed Mr Lovell had died overnight.
His navigator Dan Whapples, also from Southampton, remains in a serious but stable condition.
The pair were competing in the national powerboat racing championship in Weymouth Bay when the crash happened at about 14:30 BST.
'Barrel-rolled'
Portland Coastguard said Mr Lovell and Mr Whapples were rescued from the water near Weymouth Town Beach and the harbour.
Shelley Jory-Leigh, of BBC Radio Solent's H20 show, was commentating at the event and saw what happened.
"Unfortunately the boat just got caught up in the wash of the other boats - that's what happens with powerboat racing - and it barrel-rolled," the former powerboating world champion said.
"The drivers got thrown clear of the boat. It's like a Formula 1 car spinning off."
Ms Jory-Leigh said the safety teams were "absolutely amazing" and divers were in the water "in 30 seconds".
Aaron Emmett was also competing in the race in the boat in front of Mr Lovell and Mr Whapples.
He said: "It was the last race of the final round of the season and everyone was really battling and it was very intense.
"We all went into the first corner on the course together and as we approached the next corner we were ahead of Mike and Dan.
"We looked around and saw they suddenly weren't there but it wasn't until we saw a red flag that we realised something had happened."
A spokesperson from P1 SuperStock said: "Our thoughts are with the whole powerboat community and particularly Mike and Dan's family and friends."
Martin Braybrook, owner of the Brookspeed team for whom Mr Lovell was racing, said he had a "vast knowledge" of powerboat engineering.
"When the opportunity arose for him to be involved in the amateur racing he embraced it whole-heartedly, jumping at the chance to pilot the boat. He loved every second of it - living his dream.
"Mike was very popular and much loved by his colleagues and his peers in the motor racing community," he said.