Chris Evans buys Dunlop Bridge from Donington Park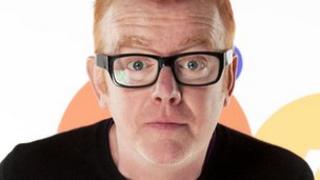 Radio 2 DJ Chris Evans has bought Donington Park race track's famous Dunlop bridge.
The 30-year-old structure was sold during a racing memorabilia auction, for about £300, in aid of a Leicestershire charity.
On his show, Evans said the bridge was a national landmark and appealed for help getting it from the track.
"All kids listening to this show would say 'yeah, why would you not buy a bridge?'," he said.
'Lying in pieces'
Evans, who also presents The One Show, joked he was going to put up the bridge, which is over 70 metres (230 ft) in length, in his garden over the top of his neighbour's house.
"There will be planning issues of course, [with a] temporary structure, [but] if we whittle it away at either end, affectionately and sympathetically, because it is a national landmark, I think I can get it down to four metres."
He dedicated the Elbow track First Steps to "all bridge owners" listening to his programme.
Tyre company Dunlop originally paid for the bridge to be put over the Donington track in 1977.
Christopher Tate, managing director at the circuit, said the bridge was taken down in 2009 during the previous owner's bid to host the British Grand Prix.
He said: "It has just been lying there in 20 pieces in a yard, which needs tidying up - so somebody had the idea of auctioning it off.
"Every now and then you've got to make some changes and we've got to tidy up the yard."
The lot bought by Mr Evans was auctioned by Bonhams and comprises 16 panel pieces which made the arch that decorated the footbridge.
Other sale items included a Pirelli clock and a model of the World Land Speed Record car, Project Blue Star, which sits on top of the Old Hairpin bridge.
The items fetched over £1,500 during the auction. All of the proceeds will go to the Hope Against Cancer charity.