London Marathon runner who died named as Robert Berry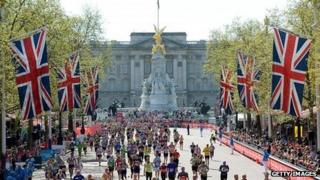 A man who died after collapsing at the finish line of the London Marathon has been named as 42-year-old Robert Berry.
Organiser Virgin Money said he was taken to one of its medical facilities where he was treated by four consultants, including one specialising in emergency medicine.
Mr Berry, from Newbury in Berkshire, was pronounced dead after being transferred to St Mary's Hospital.
About 36,000 people took part in the event on Sunday.
A statement from the organiser said: "It is with regret that we can now confirm that Mr Robert Berry, aged 42, collapsed at the finish of the London Marathon.
"The organisers of the Virgin Money London Marathon would like to continue to express their sincere condolences to the family and friends of Mr Berry and our thoughts and deepest sympathies are with them all at this difficult time."
Donations pouring in
Mr Berry, who worked in IT services, was raising money for the National Osteoporosis Society, according to his Just Giving page.
He wrote that he decided to support the charity after his mother was diagnosed with the condition when she was 52, following an injury several years earlier.
On his website, he detailed his training in the lead-up to the marathon. Within hours of his name being announced after his death the number of donations topped 1,500, rising from 65, and by Monday night more than £19,000 had been donated, surpassing the £1,700 target.
Mark Jameson, who also ran in the marathon, wrote: "God bless you Rob. Your family must be so proud of you, raising money to help your mum and others. So sorry it had to end in this way. RIP."
One anonymous donor said: "In memory of Mr Berry (RIP). You gave your life trying to do good for others."
His death comes two years after Claire Squires, 30, from North Kilworth, Leicestershire, collapsed and died from cardiac failure on the final stretch of the 26.2-mile course.
Sunday's event was the 34th London Marathon.