Labour PCC candidate Phil Dilks quits over helmet theft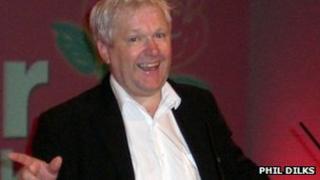 A Labour candidate for the post of police commissioner in Lincolnshire has stood down over a "schoolboy prank", involving a stolen crash helmet.
Phil Dilks said the incident happened in 1968, when he was 16 years old.
"I was one of a group of lads on scooters visiting a mate in hospital - one of the lads stupidly picked up an old crash helmet that wasn't his."
It was found in Mr Dilks's garage and he was charged with handling stolen goods.
Mr Dilks said: "We all went back to my family home to mess about, as teenagers do.
"Unknown to me, the helmet was left in our garage.
"The police never found out who took it, but because it was found in our garage, I was charged with handling stolen goods."
Mr Dilks becomes the third candidate in the East Midlands region to stand down over a past criminal offence.
Labour's Alan Charles stood down in Derbyshire after being told a conditional discharge, given 47 years ago when he was 14, barred him from standing for office.
He has since been reinstated.
Labour East Midlands said it had been advised by a barrister and legal experts that the decades-old offence would not disqualify Mr Charles from the role after all.
Deeping St James councillor Mr Dilks said if he had been given a conditional discharge he could have remained as Labour's candidate for Lincolnshire.
Conservative candidate Mike Quigley pulled out of the Nottinghamshire race after a "minor offence" 44 years ago.
Home Office rules say anyone convicted of an offence which could attract a prison sentence cannot be a candidate.
'Fair Deal Phil'
Mr Dilks, who became known as "Fair Deal Phil" after he campaigned for reduced bus fares for pensioners and disabled people in the Deepings, said: "I was a Sunday school teacher at the time and my vicar went with me and gave a character statement on my behalf.
"I'm advised that it is unlikely case records still exist. But it would not be honest of me to pretend it never happened.
"As an adult, I've always believed in public service and worked to uphold the law as fair and just."
Mr Dilks served as a soldier with the Territorial Army for 20 years and was a member of the Lincolnshire Police Authority for eight years.
He said: "I'm deeply disappointed at not being able to stand for election to this new role to help make Lincolnshire a safer and better place to live.
"But I trust those who know me will judge me on my work over a lifetime rather than what resulted in a £5 fine in the 1960s."
PCCs will replace police authorities in 41 areas following elections on 15 November.
They will have powers to hire and fire chief constables, set police force budgets and commission some criminal justice services.