Brittany Ferries' wildcat strike: Passenger reaction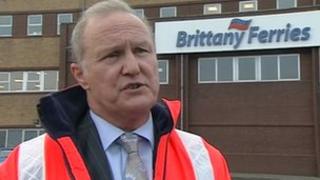 The 24-hour wildcat strike of Brittany Ferries', the Armorique, has impacted nearly 600 people - both those sailing from Plymouth to start their trips abroad and those trying to return home.
The strike by French employees did not become clear until some passengers had already boarded the ferry.
For many it has led to additional expenses and delayed plans.
Steve Warner, managing director of UK Brittany Ferries, apologised for the cancellations and said the company had been given assurances by the unions in France that Friday's sailing will go ahead.
He added that he was hopeful passengers' travel insurance would cover any additional travel costs incurred, and if not, they should contact the company.
Some of those caught up in the industrial action have spoken to BBC News about their experience of waiting to get back to England.
'Left in no-man's land'
Karen, who did not give her surname, from Plymouth said she was "frustrated" by the additional cost and lack of information she had received about the strike after spending three weeks travelling through France and Spain on a motorbike.
"We had a mad rush to try and get some accommodation and we were very lucky, we paid 60 euros, but another couple we know paid 120 euros just for the bed. We're stuck in this expensive country through no fault of our own."
Karen said her group had already boarded the ferry before they were told, after two hours of waiting, it would not be sailing.
"We went to the port. They let 12 motorbikes, 12 cars and two lorries on board and let us though passport control and then shut the gates and left us standing for two hours in no-man's land," she said.
"No one told us anything until a rep from the Irish ferries told us there was a strike. Then we saw people on the other side were turning around and going away, they opened the gate for a couple of lorries to go back into town, so we just went even though they tried to stop us."
Karen said her group was "fed-up" about the lack of information from Brittany Ferries.
She added: "They haven't been very good telling us what happened. We had a text yesterday morning to say traffic in Plymouth was bad, but we've not had any text messages to tell us abut the strike.
"I'm self-employed and meant to be working tomorrow and if I don't work I won't get paid.
"We're booked on this afternoon's ferry, hopefully it won't rain on us, and hopefully we'll get home."
Friend's wedding
James Hammond from Plymouth, had been on holiday with his fiancee Sam, but found himself trying to book into a hotel conscious of the fact his friends' wedding in Shrewsbury was just hours away.
"I love France, so another day here is no bad thing, but if we don't get on the ferry today things could turn sour.
"It's my mate's wedding in Shrewsbury tomorrow and if I miss it he'll kill me."
Mr Hammond said although he had been "fairly relaxed" about the situation, it had financial implications.
"My girlfriend's already missed a day at work and we've had to pay for the hotel last night."
Mr Hammond had also booked two nights in a hotel in Shrewsbury for his friend's wedding, but he had already been told by the hotel staff that he will have to pay for Friday night even if he is still stranded in France.
"There are no guarantees the ferry will sail today, but if it does when we get into Plymouth we'll have to drive through the night to Shrewsbury, " he said.
'No animosity'
Nola Bayliss from Stoke Fleming said the strike had not affected her or her retired husband, and they had quickly been re-booked on the overnight ferry, the Pont-Aven, which sailed from Plymouth to Brest on Thursday.
She said: "We had a phone call last night and they said provided we could get down to Plymouth for 8pm last night they would get us on-board for an overnight crossing, give us a free cabin and this morning we've had our breakfast for half price.
"We've come into Brest, which doesn't affect us much as we're only an hour away from our destination.
"They've laid on coaches for people who've got further to travel. They've been very accommodating and I think everybody is in a good frame of mind, there's no animosity here."