Thanet care homes 'have no children from Kent'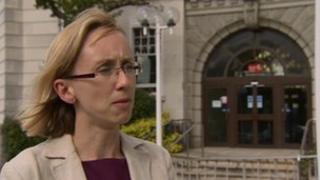 More than 20 homes in the Thanet area of Kent are caring exclusively for looked-after children from outside the county, new figures show.
Kent County Council (KCC) said the figure highlighted the problem of children being put into care miles away from their families and schools.
"All councils need to look at how far away they are placing children," said KCC cabinet member Jenny Whittle.
The Mayor of London said he had asked councils to place more near home.
Ms Whittle said Kent had over 1,200 children placed in the county by other authorities.
In June, KCC called for new regulations to ensure children are placed into care within 15 miles of their homes instead of the current 20 miles.
The Children's Society says that 8,000 children in care in England are more than 20 miles from their home.
'Priority issue'
Some of the children in care from outside Kent come from as far away as Wales and Scotland. The London Borough of Greenwich has the most placed children followed by Newham and Lewisham.
The leader of KCC, Paul Carter, has written to the Mayor of London, Boris Johnson, to request a meeting of representatives from the 32 London councils and those from Kent to discuss the issue.
He has also written to Children's Commissioner Maggie Atkinson requesting that children are placed within 15 miles of their birth families, unless there are exceptional circumstances.
A spokesman for Mr Johnson said he had written to London councils in July about the issue.
"The Mayor of London regards this as an important issue," said the spokesman.
"Whilst he recognises the challenges faced by London's boroughs, he has written to seek assurances that they continue to see this as a priority issue; that they are ensuring the protection of London looked-after children being placed in Kent; and that everything possible is being done to try to place more children in care within their home borough."
Ms Whittle said sometimes children were placed far from home if they were at risk of being sexually exploited or if they had relatives nearby.
But she said such children often went missing.
"Our police force is under severe strain at the moment working with the Metropolitan Police and other police forces to trace these children," she said.
Ms Whittle added: "The most devastating thing that can probably happen to a child is to be taken into the care system.
"Councils do it for absolutely the right reasons because children have been neglected or abused or for other reasons but when a child is taken away from their family and their friends and their school that only serves to compound their sense of grief."